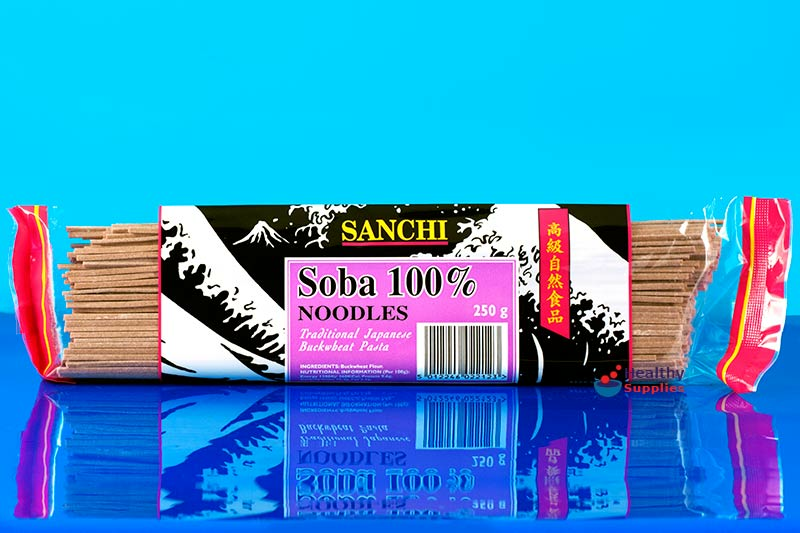 100% Buckwheat Soba Noodles, 250g (Sanchi)
This product is temporarily out of stock, but you can try
100% Buckwheat Noodles, Organic 250g King Soba
instead
Email me when this product is back in stock
Buckwheat Soba Noodles
100% Buckwheat Noodles
No additives, artificial flavourings or colours
Traditional Japanese Style
These Buckwheat noodles are made in the traditional Japanese method just from Buckwheat Flour and nothing else. These are thin oblong noodles, which are perfect for making into a bowl of Ramen and as well as an accompaniment to meat, fish or tofu that has been stir-fried.
Tip: Try adding a splash of Toasted Sesame Seed Oil to the noodles once cooked to add extra flavour and to stop the noodles from sticking together.
To Prepare: Add the noodles a little at a time to boiling water, stir and cook until soft for around 5-7 minutes. Care should be taken not to overcook and it is advisable to rinse the cooked noodles in a colander under cold water to prevent further cooking taking place before serving.
Ingredients:
Buckwheat Flour.
Nutritional Information
| Typical Values | Per 100g |
| --- | --- |
| Energy | 360kcal |
| Protein | 9.6g |
| Carbohydrates | 75.4g |
| Fat | 2.3g |
Customer Reviews on Trustpilot