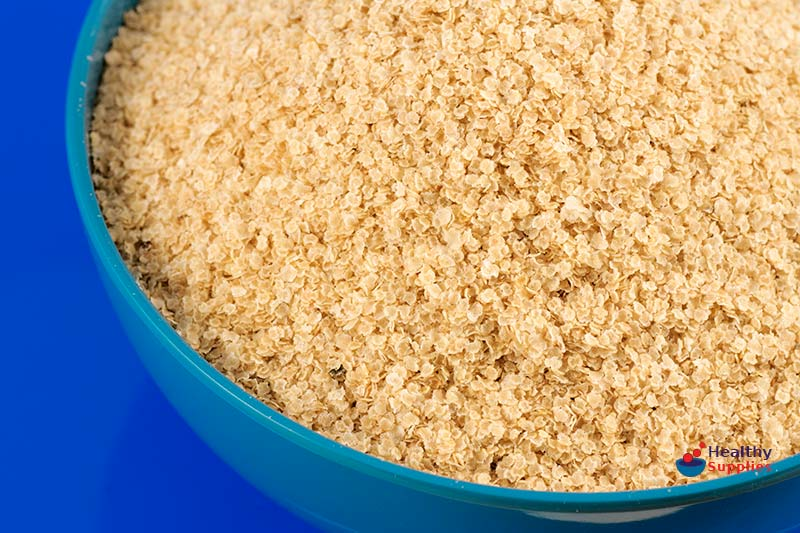 Amaranth Flakes 250g, Organic (Szarlat)
This product is temporarily out of stock, but you can try
Organic Amaranth Grain 1kg (Sussex Wholefoods)
instead
Email me when this product is back in stock
Flaked Organic Amaranth - gluten-free
These amaranth flakes are simply amaranth grain, rolled into these miniature flakes. They are suitable for making a smooth and creamy gluten-free porridge, as well as adding to soups to thicken and provide texture.
Gluten-free.
Good source of protein.
Use as a breakfast cereal or in muesli.
Can also be cooked in a porridge.
Can be mixed with other gluten-free flakes.
Recipe suggestion on back of packet.
These tiny (3mm) flakes are a very versatile ingredient. Amaranth is full of protein and can be used as a breakfast cereal, in muesli or cooked into a porridge.
Directions
Use as a breakfast cereal, in a similar manner to cornflakes. These flakes retain their crunch when soaked.
Use these flakes in a muesli mix. They are gluten-free, so are ideal in a gluten-free muesli.
To make porridge, boil these amaranth flakes in a little water for 5 minutes before adding milk, honey and fruit to taste.
Thicken soups by adding a handful of these flakes.
Add these flakes to cakes, cookies and bread, in a similar way to how one would use oat flakes.
Flaked Organic Amaranth. Produce of Poland.
**Please note that this product uses American date formatting meaning the expiry date will be displayed as mm/dd/yyyy
| Typical Values | Per 100g |
| --- | --- |
| Energy | 409kcal |
| Protein | 16.2g |
| Carbohydrates | 51.7g |
| _of which sugars | 2.2g |
| Fat | 7.2g |
| _of which saturates | 1.7g |
| Sodium | <0.001g |
| Fibre | 13.6g |
| Squalene | 401.9mg |
| Vitamin B2 | 1.8g |
| Phosphorus | 648mg |
| Magnesium | 301mg |
| Iron | 6.4mg |
| Zinc | 3.1mg |
| Calcium | 248mg |
| Potassium | 548mg |
Organic • Guaranteed gluten-free • Vegetarian, Vegan.
Customer Reviews on Trustpilot