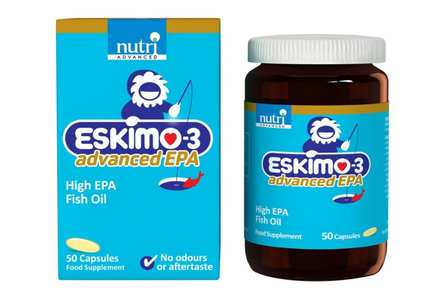 Advanced EPA Fish Oil 50caps (Eskimo)
RRP was: £32.59
High Strength Fish Oil Capsules
High in Omega 3 Fatty Acids EPA/DHA.
Made from sustainable sources of oily fish living off the coast of Peru.
Omega-3 supports brain function, heart health and vision.
Each capsule typically provides 550mg of EPA, 100mg of DHA and 1mg of Vitamin E.
50 soft gel capsules.
You might also like to try...
Ingredients:
Each capsule typically contains: Fish oil concentrate 1000 mg, Eicosapentaenoic acid 550 mg, Docosahexaenoic acid 100 mg, Vitamin E1 mg, Gelatin, Glycerol, Iron oxide, Tocopherol-rich extracts
For more information on our ingredients policy please see here
Directions:
Take 1-3 capsules daily with meals, or as recommended. Not recommended for haemophiliacs. Consult with a medical doctor if on anti-coagulant medication. If taking any kind of medication or have a medical condition, consult a healthcare practitioner before using this product.
RRP was: £32.59
Customer Reviews on Trustpilot