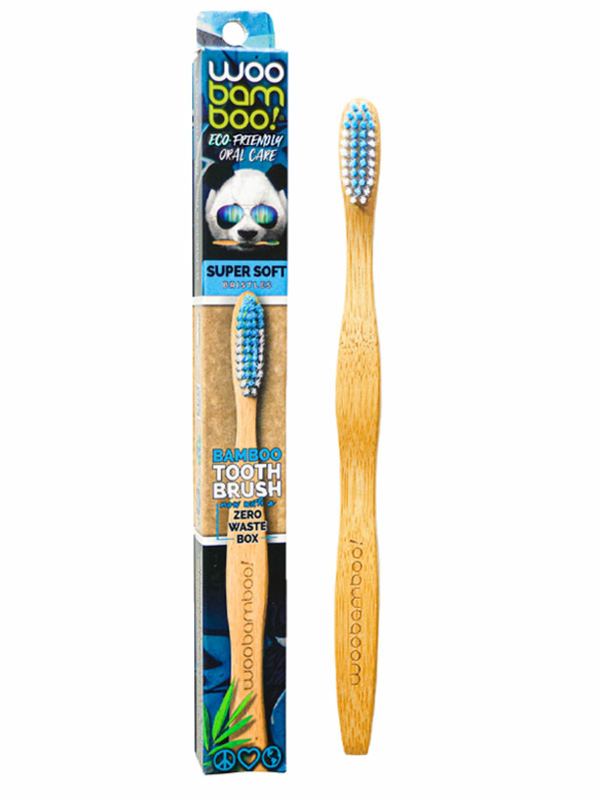 Adult Super Soft Bamboo Toothbrush (Woobamboo)
Email me when this product is back in stock
Organic Super Soft Bamboo Toothbrush
Just when you thought Woobamboo best-selling bamboo toothbrushes couldn't get any better... Now sold in Zero Waste Packaging!
As the top seller, WooBamboo's bamboo toothbrush options are not only dentist-approved, but also Mother Nature recommended. These WooBamboo brushes tout a beautiful ergonomic handle made from a single piece of carved, FSC Certified 100% Sustainably Harvested bamboo, containing no toxins, glues, or paints. They are sanded and sealed by hand using a Vegan soybean wax to ensure smoothness and longevity! This toothbrush is completely BPA and phthalate-free. All bristle-strengths feature dental-grade nylon bristles that are also recyclable if your local facility accepts them.
About the Bamboo: the toothbrushes are Moso bamboo, the world's fastest-growing varieties of bamboo. It's naturally antimicrobial and stronger than most hardwoods (like Oak)! It also is not a part of the endangered Giant Panda's diet - You can find them happily munching on Black, Water, and Arrow bamboos. So you can buy with a clean conscience!
About the Packaging: This 100% biodegradable box is plastic-free and ready to rock n' roll, made of post-consumer recycled paper is coated in an eco-friendly aqueous coating that too, breaks down completely in nature leaving no toxic trace!
Organic • Vegetarian • Fairtrade.
Customer Reviews on Trustpilot