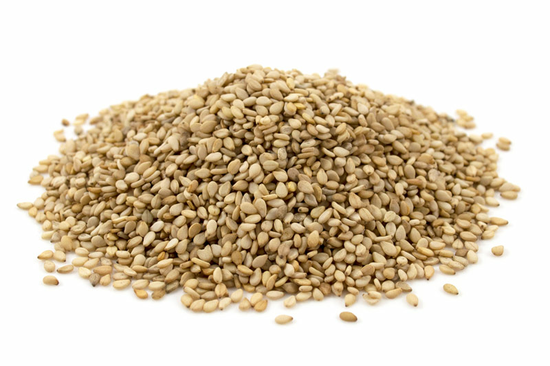 Best Before Date and Country of Origin available on request
Organic Whole Sesame Seeds 25kg (Bulk)
100% Organic Natural Sesame Seeds
Organic produce.
Sesame seeds with outer husk.
Brownish-cream seeds with a delicate bite.
Used to add flavour and garnish bread.
Nutritious seed to add to biscuits and salads.
Can be used raw or lightly toasted.
Packed in Sussex.
25kg bulk sack.
Sesame seeds are small seeds with a pleasant, mild nutty flavour. They are a good source of Calcium and Iron. These seeds can be ground down into a paste called 'Tahini' which is one of the main ingredients in authentic houmous. The outer husks provide extra fibre.
Ingredients:
Organically grown Whole Sesame Seeds.
For more information on our ingredients policy please see here
Produce of India.
Nutritional Information
| Typical Values | Per 100g |
| --- | --- |
| Energy | 573kcal |
| Protein | 17.73g |
| Carbohydrates | 23.45g |
| Fat | 49.6g |
| Fibre | 11.8g |
| Sodium | Trace |
Organic.
Customer Reviews on Trustpilot