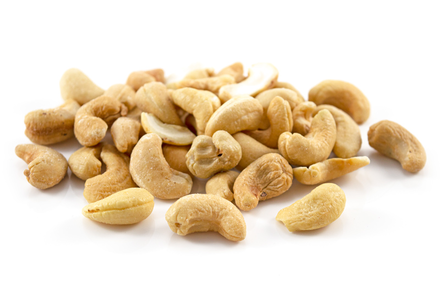 Roasted salted cashew nuts.
Roasted & Salted Cashew Nuts 12.5kg (Bulk)
Roasted salted cashew nuts
Bulk size pack.
Ideal for snacking.
Lightly salted.
No oil, no coatings and no additives.
These roasted cashew nuts are ideal for snacking. They are lightly salted and have no extra oil or coatings of any kind. The light roasting gives the nuts an initial crunch, with a creamy inner texture. The 1kg value pack is ideal for families. Cashew nuts are a healthy snack, packed with protein, minerals and heart-friendly monounsaturates.
Ingredients:
Cashew nuts, roasted and salted.
Please note, all Healthy Supplies products will soon become part of our Sussex Wholefoods range. There is a transition period when you might receive either Healthy Supplies or Sussex Wholefoods product. This is just the change of the label, ingredients remain unchanged.
For more information on our ingredients policy please see here
Customer Reviews on Trustpilot
---