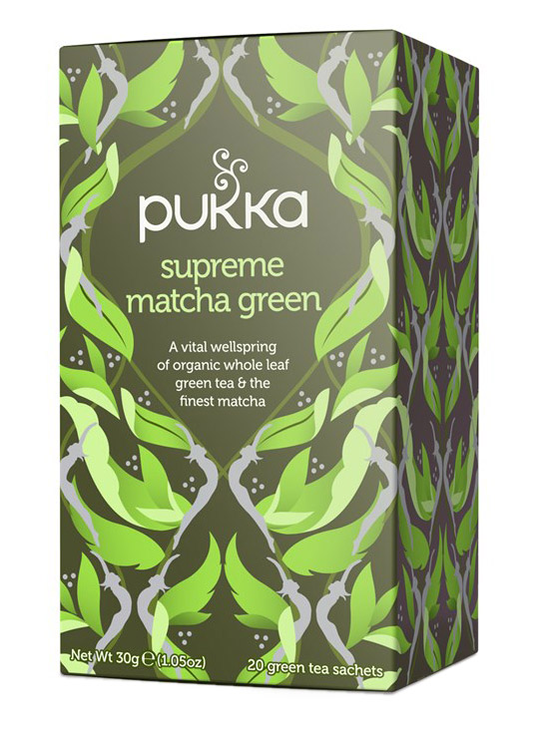 Convenient matcha tea bags.
Supreme Matcha Green Tea, Organic 20x Sachets (Pukka)
Blend of Organic Green Tea
Refreshing and revitalising drink.
Rich smooth taste.
Contains 4 types of green tea.
Includes pure Matcha Powder.
These teabags are an easy way to brew the perfect cup of green tea. They have the added boost of Matcha Powder along with whole leaf Sencha, Oothu and Suoi Gang.
Green Tea makes a light, refreshing alternative to Black Tea. Try a cupful with breakfast to get you off to a good start or after lunch to pep you up for the afternoon.
Directions for Use
To get the best from this tea, infuse for at least 3 minutes in freshly boiled water that has been allowed to cool a little.
Ingredients:
100% organically grown and ethically sourced ingredients: Sencha green whole leaf tea (China Da Zhang Shan) (34%), Oothu green whole leaf tea (India Western Ghats) (32%), Suoi Gang green whole leaf tea (Vietnam Yen Bai) (32%), Matcha powder (Jejo do Garucha) (2%). Green tea: traded in compliance with Fairtrade Standards, total 98%.
For more information on our ingredients policy please see here
Organic • Vegetarian, Vegan.
Customer Reviews on Trustpilot
Product Recommendations