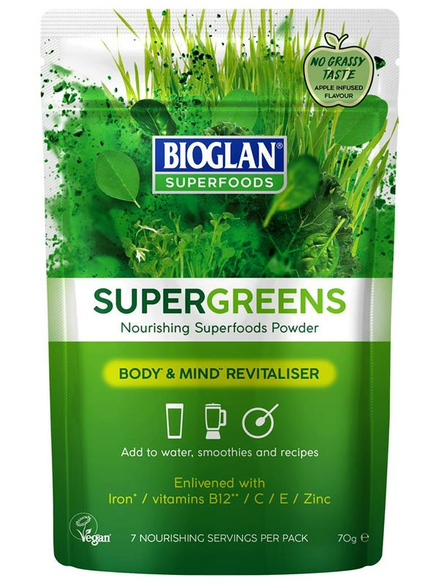 Supergreens 70g (Bioglan)
RRP was: £9.99
Body & Mind Revitaliser
This unique and nourishing Supergreens blend is bursting with powerful Superfoods, including wheatgrass, spirulina, barley grass, kale and chlorella. Itís also fortified with vitamins B12, C and E, all packed into a convenient powder so itís easy for you to use in everyday foods or even just mix with water. Supergreensí great flavour comes from apple powder and subtle spices, so now itís even easier to eat your greens!
You might also like to try...
Nature's Own

Unique Food State Vitamins & Wholefood Minerals.
Ingredients:
Apple Powder, Mulled Apple Seasoning (Sugar, Apple Powder [Dehydrated Apple, Antioxidant: Sodium Metabisulphite], Coriander, Cassia Cinnamon, Ginger, Salt, Cloves), Powders: (Barley Grass (13%), Spinach (13%), Wheatgrass (12%), Spirulina (9%), Lucuma, Alfalfa, Kelp, Kale (7%), Maca, Broccoli, Chlorella (2%), Moringa, Turmeric, Green Tea Extract), Vitamin C, Ferrous Citrate, Vitamin E (Anti-Caking Agent: Silicon Dioxide), Zinc Citrate Dihydrate, Vitamin B12.
For more information on our ingredients policy please see here
Vegetarian, Vegan.
RRP was: £9.99
Customer Reviews on Trustpilot