Sukrin Melis has a texture similar to icing sugar.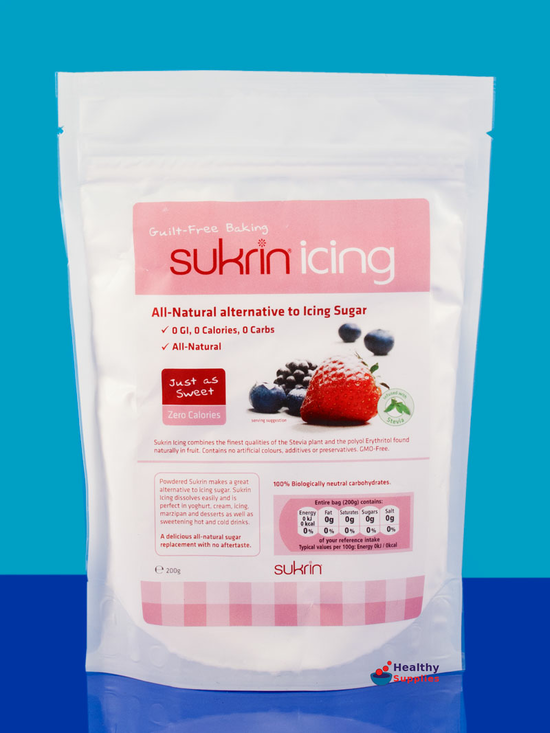 Sukrin Melis Natural Sweetener, powder 200g (Sukrin)
Powdered Natural Sweetener ~ Healthy Icing Sugar!
100% Natural
0 Glycemic Index
Tooth friendly
No bitter aftertaste
Contains Stevia Extract
Safe for diabetics and low-carb diets
Suitable for all your icing needs!
Sukrin Sweetener is produced via a natural fermentation process from the Glucose naturally occurring in pears, melons and mushrooms. This powdered form of Sukrin looks and tastes exactly the same as the white icing sugar made from sugar beet/cane. It tastes and behaves in the same way -
no bitter after taste
, unlike some other sugar substitutes.
Sukrin Melis mixes easily and is ideal for sweet baking and confectionery e.g.: dusting sponges, sweetening macaroons, desserts, cakes and home-made marzipan. The finely ground white powder can be mixed into butter icing for cupcakes or alternatively used for Royal Icing. You can add colours and flavourings to the powder in just the same you would regular icing sugar.
Sukrin Melis is a versatile sweetener that won't add calories to your cooking and baking. Wherever you need to add a little sweetness to your cooking this can be stirred in and dissolved quickly (e.g.Fruit Coulis). It's even perfect for your savoury creations such as Sweet and Sour Sauce, Satay Sauce, BBQ Sauce and Thai Curry Sauce.
Ingredients:
Polyol (Erythritol), Stevia (Steviol glycosides). Store in the resealable pouch provided.
For more information on our ingredients policy please see here
Nutritional Information
| Typical Values | Per 100g |
| --- | --- |
| Energy | 0kcal |
| Fat | 0g |
| _of which saturates | 0g |
| Carbohydrates | 100g |
| _of which sugars | 0g |
| _of which polyols | 100g |
| Dietary Fibre | 0g |
| Protein | 0g |
| Salt | 0g |
Vegetarian, Vegan.
Customer Reviews on Trustpilot