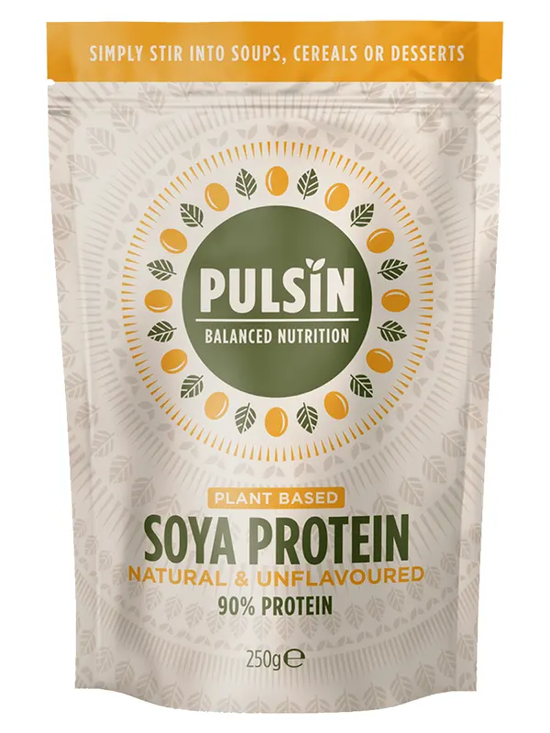 Soya protein powder Isolate.
Soya Protein Isolate Powder 250g (Pulsin')
Soya Protein - 90% Protein
Vegan & Vegetarian friendly.
Convenient ingredient for upping protein in your recipes.
Full spectrum of Amino Acids.
Add to smoothies and baking.
Low carbohydrate food.
Keeps you feeling full for longer.
Contains Soya Isoflavones.
Soya Protein Isolate is a high quality protein complete with all the amino acids needed to keep muscles healthy. This natural protein powder is a great ingredient for vegetarians, vegans and sports people. It is also useful for anyone who wants to supplement their protein intake. The recommended daily intake for adults is around 50g.
Try adding soya protein isolate to flapjacks or other snack bars to supplement or replace the protein found in nuts.
Ingredients:
100% Soya Protein Isolate. Contains Soya.
For more information on our ingredients policy please see here
A 20g serving (2 heaped desserts spoons) provides 18g of protein. Use 1-2 servings per day.
Nutritional Information
Typical Values
Per 20g
Per 100g
Energy
74kcal
370kcal
Protein
18g
90g
Carbohydrates
0.7g
3.5g
_of which sugars
0.2g
1g
Fat
0.2g
1.0g
Average Amino Acid Composition
Per 100g
Alanine
4.3g
Arginine
7.6g
Aspartic Acid
11.6g
Cysteine
1.3g
Glutamic Acid
19.1g
Glycine
4.2g
Histidine
2.6g
Isoleucine
4.9g
Leucine
8.2g
Lysine
6.3g
Methionine
1.3g
Phenylalanine
5.2g
Proline
5.1g
Serine
5.2g
Threonine
3.8g
Tryptophan
1.3g
Tyrosine
3.8g
Valine
5.1g
Vegetarian, Vegan.
Customer Reviews on Trustpilot
Product Recommendations