Pretty strips of almond for decorating and muesli making.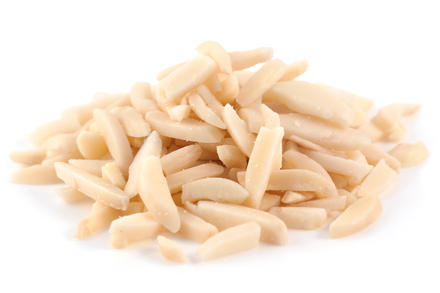 Last Batch Produced on Tue 11 Feb 2020 11:33. Best before End Jun 2020. Produce of USA. Packed in the UK.
Almonds Slivers [Strips] 250g (Healthy Supplies)
Slivers of Blanched Almond
Ready-to-eat long slices of Almond.
Un-roasted, no added salt or sugar.
Garnish for cakes, biscuits, pastries and desserts.
Adds a nutty bite to muesli, granola and porridge.
Can be gently toasted in the oven when needed.
These strips or 'slivers' of almonds are made from blanched almonds that are sliced lengthwise. They provide a lovely bite to a recipe than say the more commonly used flaked almond.
Almond slivers are frequently used to garnish sweet recipes such as cookies, French patisserie and tea loaves. They are a great alternative to the full sized almond in breakfast porridge and muesli.
The the strips of almond are equally tasty when sprinkled into cooked green vegetables (French Beans), green salads, pasta salad or cous cous. The almond pieces can also be lightly toasted under the grill/in an oven or gently dry roasted in a non-stick frying pan.
Ingredients:
Blanched Almonds.
Produce of USA.
For more information on our ingredients policy please see here
Nutritional Information
| Typical Values | Per 100g |
| --- | --- |
| Energy | 612 calories |
| Protein | 21.1g |
| Carbohydrates | 6.9g |
| of which sugars | 4.2g |
| Fat | 55.8g |
| of which saturates | 4.7g |
| Fibre | 7.4g |
| Sodium | Trace |
Wheat-free • Does not naturally contain gluten • Vegetarian, Vegan • Dairy-free.
Related Categories

---

Almonds | Healthy Supplies
Chopped Nuts | Healthy Supplies
Almond Flakes
Economy Almonds
Healthy Supplies Nuts
Nut Pieces & Powders
Customer Reviews on Trustpilot
Product Recommendations
---