Naturally moist, soft prunes.
Below:
one that we have squeezed open!
You can see that the stone comes out easily.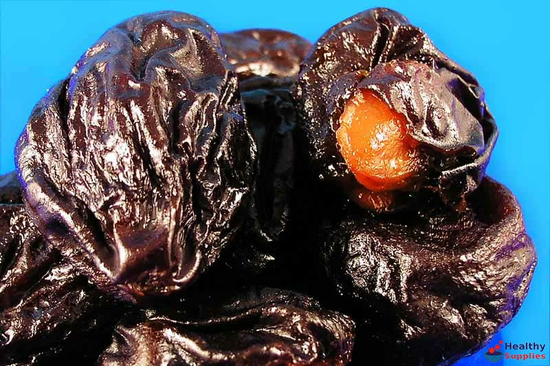 Quality prunes from France.
Prunes 1kg (Healthy Supplies)
Prunes With Stones. Economy pack.
Naturally soft and moist.
No preservatives.
No added water or sugar.
Ready-to-eat.
Use in cooking & baking.
Stones are left inside.
Economy pack, but still top quality.
Produce of France.
These medium-sized prunes are semi-dry and still contain their stones. They are produced from the Prunier d'Ente variety of plum and are known as "Agen Prunes".
Prunes are a great way to sweeten recipes and can act as a replacement/partial replacement for the butter/fat in recipes.
The moisture in these prunes is natural, and not added later. Some prunes are dried until they are rock-hard, but these are still around 25% moist. They are soft, and they slip away from the stone nicely (see bottom-right picture!)
Serving Suggestions
These prunes are ideal for eating on their own, or lightly dusted with cocoa powder!
They can also be used as an ingredient in your own home-made energy snacks! Remove the stones before squishing together with dates, banana, cacao powder, almond butter, vanilla and cinnamon. Refrigerate for 1 hour before serving.
Use these prunes in a home-made muesli mix.
Ingredients:
Unpitted Agen Prunes.
Produce of France
25% natural moisture, pasteurized. No added water, no sugar, no preservatives. Please note that these prunes have stones in. For more information on our ingredients policy please see here
Packed in a factory that also handles nuts, soya, sesame, eggs, milk, mustard, celery, wheat and gluten.
Customer Reviews on Trustpilot