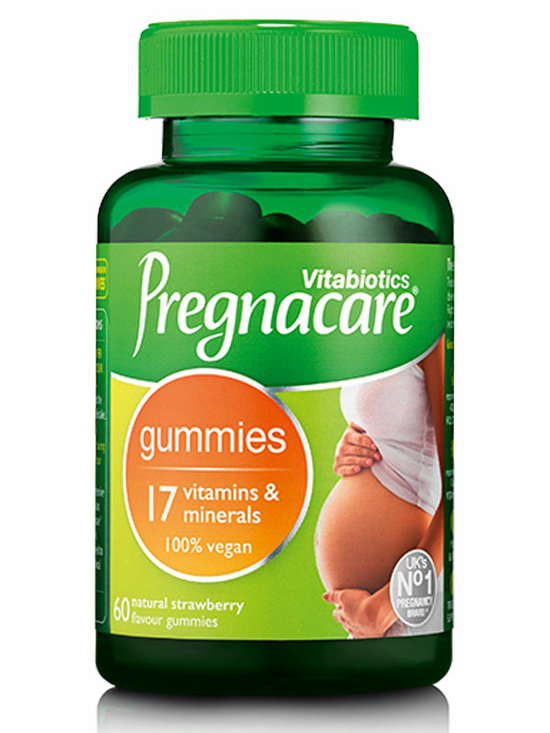 Pregnacare Gummies, 60 Gummies (Vitabiotics)
This product is temporarily out of stock.
Pregnacare Gummies
Pregnacare Gummies from the UK's No 1 pregnancy supplement brand are designed to safeguard the diet throughout pregnancy in a delicious natural strawberry flavour chewable gummy format. Pregnacare Gummies are a scientifically developed formulation of 17 important vitamins and minerals, including 400µg folic acid and 10µg vitamin D, the levels as recommended by the UK Department of Health. Pregnacare Gummies have been carefully developed by experts so that all ingredient levels are within safe levels for pregnancy and are moderate rather than excessive. They contain no gelatin, and are suitable for vegans and vegetarians.
For throughout your pregnancy, these include a source of 17 important nutrients in a natural strawberry flavour vegan gummy.
Includes the recommended 400µg Folic Acid and 10µg Vitamin D.
Folic acid contributes to maternal tissue growth.
Suitable for vegetarians and vegans.
The UK's No. 1 pregnancy supplement brand.
You might also like to try...
Superfoods

Superfoods - a fantastic boost for a healthy diet!
For more information on our ingredients policy please see here
Vegetarian, Vegan.
This product is temporarily out of stock.
Customer Reviews on Trustpilot