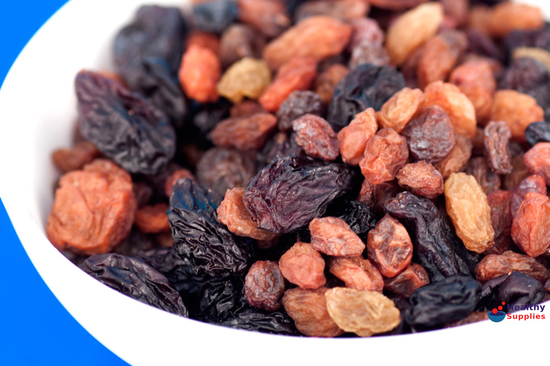 Green Khorog Raisins, Sultanas, Black Beauty
Raisins, Manuka Raisins and Bukhara Raisins.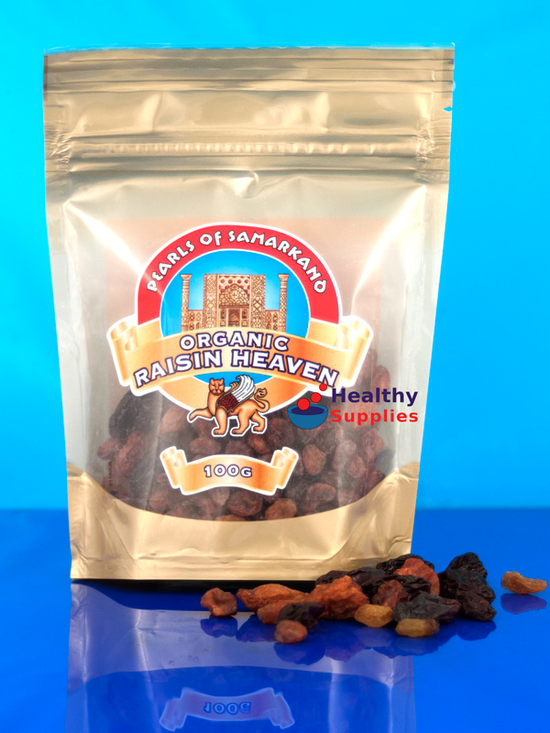 Raisin Heaven, Organic 100g (Pearls of Samarkand)
Organic Mixed Raisins
Green Khorog Raisins, Sultanas, Black Beauty Raisins, Manuka and Bukhara Raisins.
100% pure with no additives.
Plump and sweet.
This special selection of premium organic raisins are all grown naturally in central Asia and slow dried in the shade at low temperatures.
Green Khorog Raisins: Sweet, squashy raisins grown in the Pamir Mountains of Tajikistan.
Manuka Raisins: Larger, dark orange coloured raisins with about 3 seeds inside. These, along with their seeds, are highly nutritious.
Black Bukhara Raisins: Big beautiful raisins which were the preserve of the Emir. These are very sweet.
Black Beauty Raisins: Equally as large as Bukhara raisins and they have a shiny black colouring. Once highly cultivated along the Ancient Silk Road, these raisins almost became extinct until Pearls of Samarkand replanted this variety. They have succeeded in producing an abundant sweet and succulent crop.
Sultanas: A light coloured variety of raisin is specially collected along the Silk Road and very difficult to obtain in organic quality.
This excellent mixture is completely pure - free from additives, oils and added sugar. Just 100% fruit.
Ingredients:
Green Khorog Raisins, Sultanas, Black Beauty Raisins, Manuka Raisin (with edible seeds) and Bukhara Raisins. For more information on our ingredients policy please see here
Nutritional Information
| Typical Values | Per 100g | Per 25g portion |
| --- | --- | --- |
| Energy | 298 calories | 74 calories |
| Protein | 2.5g | 0.6g |
| Carbohydrates | 68g | 17g |
| _of which sugar | 61.2g | 15.3g |
| Fat | 0.6g | 0.2g |
| _of which saturates | 0.2g | 0.1g |
| Fibre | 5.2g | 1.3g |
| Sodium | 0.020g | 0.005g |
Organic • Vegetarian, Vegan.
Customer Reviews on Trustpilot
Product Recommendations