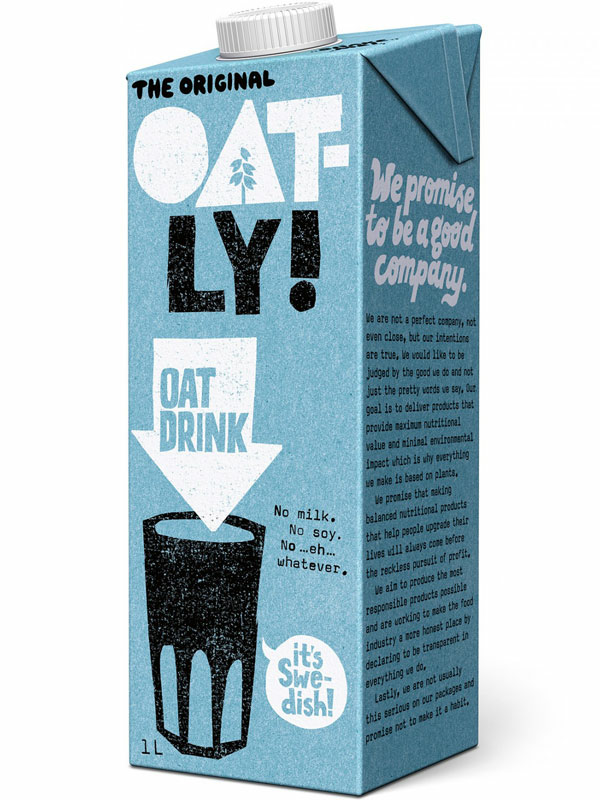 Oatly Oat Drink with Calcium & Vitamins 1 Litre
This product is temporarily out of stock.
Email me when this product is back in stock
Oatly Enriched - Healthy Oat Drink
A 'milky' drink made from oats.
Enjoy as part of a healthy diet and to help lower cholesterol levels.
Free from dairy, soya, lactose and added sugar.
Contains oat fibre.
This oat drink is a light and healthy beverage. It can also be used in place of dairy milk and even offers 38% of your recommended daily intake of calcium in every glass.
How Does It Taste?
Oatly with Calcium bears a similarity to skimmed cows milk, in both flavour and consistency. It is made in a similar way to
Rice Drinks
, by soaking the oats in water. Oatly contains little tiny bits of fibre which is great for your heart and digestion. It is these little bits of fibre that give this oat drink its flavour and colour. Oatly Oat Drink is lightly sweet (naturally) and has a very light subtle oat flavour (just imagine the fragrance of porridge oats as they begin to heat up).
Using Oatly Oat Drink
Oatly needs a really vigorous shake before it is poured. This is because the tiny bits of fibre settle at the bottom of the carton. Unseal the carton, then replace the lid and shake, then you're good to go!
Pour into tea, on your cereal, use in cooking instead of dairy milk or make a refreshing iced drink.
Oat Base (water, oats 10%), Rapeseed Oil, Salt, Calcium Carbonate, Calcium Phosphates, Vitamins; D, Riboflavin, Folic Acid and Vitamin B12.
| Typical Values | Per 100ml |
| --- | --- |
| Energy | 45 calories |
| Protein | 1g |
| Carbohydrates | 6.5g |
| _of which sugars | 4g |
| Fat | 1.5g |
| _of which saturates | 0.2g |
| Fibre | 0.8g |
| _of which beta-glucans | 0.4g |
| Sodium | 0.04g |
| Vitamin D | 0.5µg |
| Riboflavin | 0.13mg |
| Folic Acid | 20µg |
| Vitamin B12 | 0.2µg |
| Calcium | 120mg |
Customer Reviews on Trustpilot