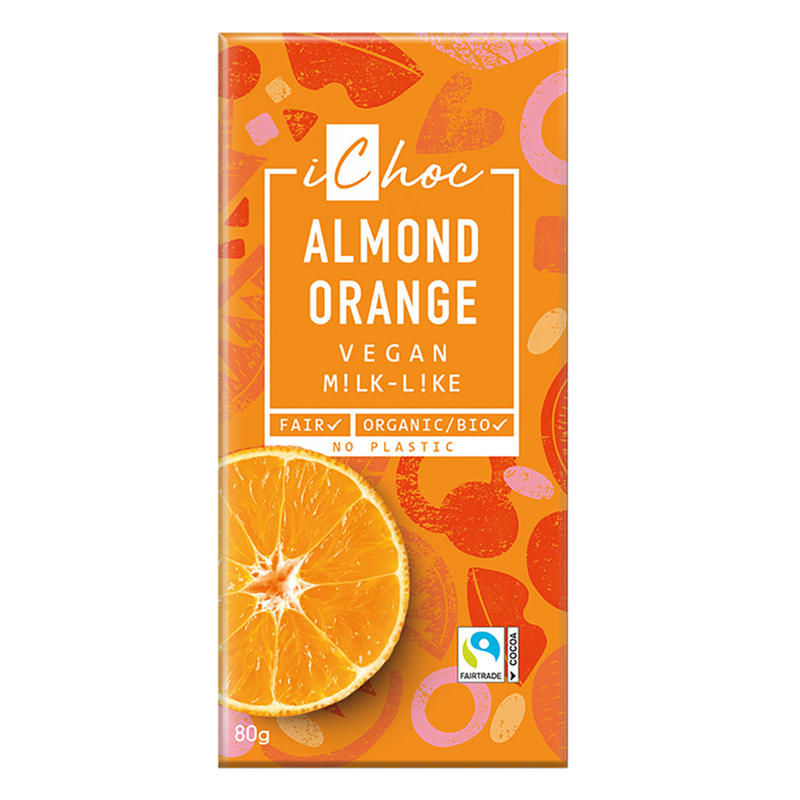 Almond & Orange Rice Milk Chocolate 80g (iChoc)
Almond & Orange Vegan Chocolate
Crunchy roasted almonds and orange pieces.
Velvety rice chocolate.
Vegan.
Made with organically grown ingredients.
Aromatically roasted almond chunks and fruity orange pieces enveloped in velvety plant-based M!LK cocoa mass. The perfect blend of fruit and crunch. 100% organic and vegan ingredients, with Fairtrade cocoa from the Dominican Republic. Wrapped in eco-friendly, plastic-free packaging.
beet sugar*, cocoa butter* 25%, buckwheat flour*, cocoa mass* 10%, almonds*, chopped & roasted 4%, tiger nut flour*, granulated orange* 3%, almond oil* 2,3%, hazelnut paste*, orange essential oil*, sea salt*, bourbon vanilla extract*.
*from organic agriculture. .
May contain traces of other tree nuts, milk and gluten.
Organic • Vegetarian, Vegan.
Customer Reviews on Trustpilot