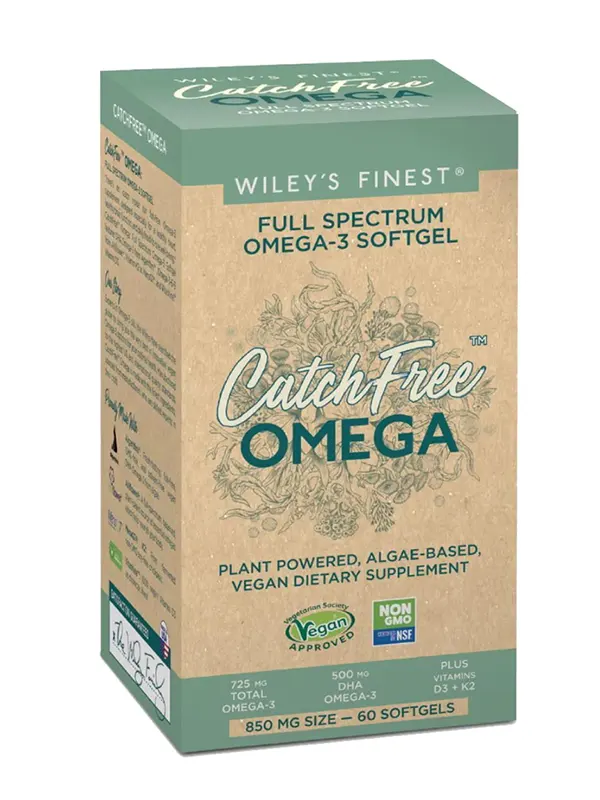 Full Spectrum Omega Softgel 60 Capsules (Wiley's Finest)
Vegan Omega-3 - 60 Softgels
There's no catch inside our fish-free Omega-3 supplement designed especially for vegans to help support a healthy heart, healthy brain function and daily head-to-toe well-being.*
CatchFree Omega Full Spectrum Omega-3 Softgel features DHA Omega-3 from Algarithm, Omega 3-6-9 from Ahiflower, Vitamin K2 as MenaQ7 and Vitashine™️ Vitamin D3.
Provides 725 mg of Omega-3 fatty acids per serving
Includes 500 mg of DHA Omega-3 per serving
25 ug of Vitamin K2 per serving
25 ug of vegan Vitamin D3 per serving
Daily Support from Head to Heart*
May reduce the risk of coronary heart disease*
To find out more about the benefits of Vitamin D, click here.
CatchFree Omega Full Spectrum Omega-3 Softgel combines over 700 mg of fish-free Omega-3s, including 500 mg DHA Omega-3, 25 ug of Vitamin K2, and 25 ug of Vitamin D3 to nourish your heart and brain and support overall health and wellness.*
Algarith: Fresh-tasting, fish-free, GMO-free, and solvent-free, vegan DHA Omega-3 from algae.
Ahiflower: A full-spectrum, balanced, plant-based source of essential omegas which help nourish your body.
MenaQ7 K2: From fermented non-GMO soy-free chickpeas.
Vitashine: 100% vegan Vitamin D3 as cholecalciferol.
Directions
As a food supplement, take 2 capsules daily with food.
Algal Oil (marine algal oil [Schizochytrium sp.] natural triglyceride), Ahiflower Oil (ahiflower seed oil [Buglossoides arvensis] natural triglyceride), Natural Antioxidant Blend of (Rosemary Extract, Non-GMO Mixed Tocopherols, Sunflower Lecithin, & Ascorbyl Palmitate), Non-GMO Vitamin E (Sunflower), Natural Vitamin K2 (MenaQ7®) in sunflower oil, Vitashine™ Vitamin D3 (Lichen in Coconut Oil). Softgel Capsule (Non-GMO modified corn starch, palm glycerin, carrageenan, sorbitol, and purified water).

Customer Reviews on Trustpilot