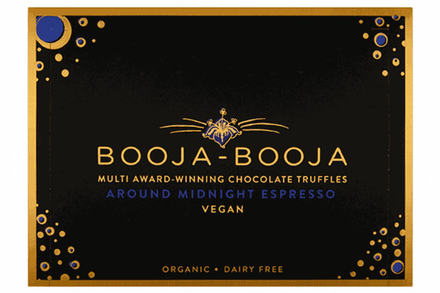 Organic Around Midnight Espresso Chocolate Truffles 92g (Booja-Booja)
RRP was: £6.99
Organic Around Midnight Espresso Chocolate Truffles
Luxurious and chocolatey espresso truffles.
A delicious melt-in-your-mouth experience.
Fragrantly roasted organic Mexican coffee beans.
Perfect as part of a gift, or for a quick treat.
Part of an award-winning range of gourmet truffles.
Dairy & soya-free.
Gluten-free.
Vegan.
Organic.
You might also like to try...
Ingredients:
Chocolate (cocoa solids* 55%, cane sugar*, Cocoa Butter*, vanilla*), Coconut Oil, Coffee* 5%, Water, Agave Syrup*, Cocoa Powder*
Organic • Guaranteed gluten-free • Vegetarian, Vegan.
RRP was: £6.99
Customer Reviews on Trustpilot