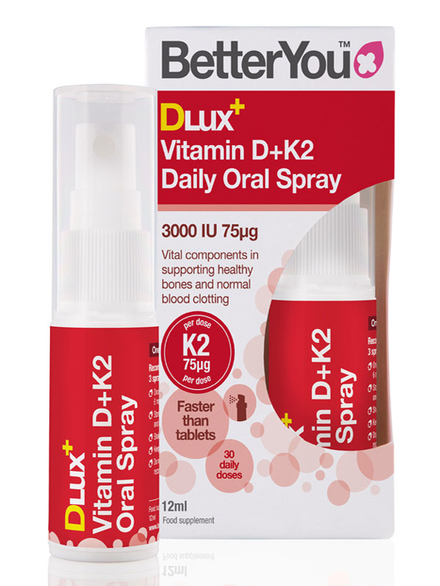 This product is temporarily out of stock.
DLux+ Vitamin D & K2, Daily Oral Spray 12ml (Better You)
This product is temporarily out of stock.
Vital Support for Healthy Bones and Heart
3 sprays deliver 3000IU (75μg) of vitamin D plus 75μg of vitamin K2.
Effective and convenient alternative to tablets and capsules.
100% natural peppermint flavouring.
Can aid in supporting healthy heart.
Can help maintain healthy bones and teeth.
Supports healthy immune system/
Directions:
Take 3 sprays daily or as recommended by your healthcare practitioner. Do not take if currently using blood thinner medication. Always consult your doctor if you are unsure. Shake well before every use. Depress the pump 3 times to prime and carefully spray 3 times against the inner cheek. Research has found this to be the most absorbent area. Not suitable for children under 3.
Always read the label.
You might also like to try...
Ingredients:
Purified water, xylitol, acacia gum, menaquinone-7 (vitamin K2), sunflower lecithin, citric acid, preservative: potassium sorbate, peppermint oil, cholecalciferol (vitamin D3), DL-atocopheryl acetate (vitamin E).
For more information on our ingredients policy please see here
This product is temporarily out of stock.
Related Categories

---

Better You
Vitamin D
Supplements
Customer Reviews on Trustpilot
---