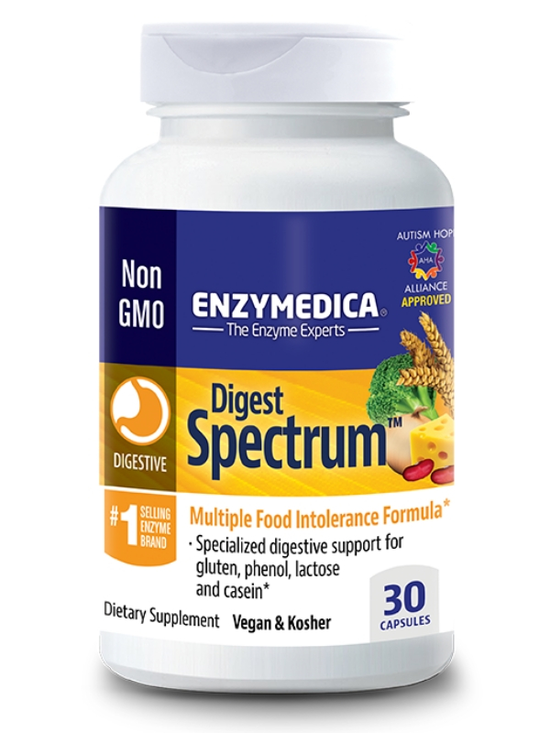 Digest Spectrum Supplements, 30 Capsules (Enzymedica)
Digest Spectrum Food Intolerance Supplements (30 Capsules)
Digest spectrum, a multiple food intolerance formula.
Can aid in reducing the severity of reactions to food intolerances.
May help relieve gas, cramps, bloating, and heartburn.
Dairy-free.
Vegan.
Kosher.
Non-GMO.
Gluten-free.
30 Capsules.
You might also like to try...
Directions:
1-2 Capsules with each meal. More may be taken as needed.
Ingredients:
DPP-IV 1'400 DPPU, Amylase Thera-Blend 14'000 DU, Xylanase 20'000 XU, Protease Thera-Blend 98'000 HUT, Alpha Galactosidase 600 GaIU, Glucoamylase 40 AGU, Lactase 2'000 ALU, Lipase Thera-Blend 916 FCCFIP, Maltase 200 DP, Cellulase Thera-Blend 400 CU, Invertase 150 SU, Pectinase (w/Phytase) 50 Endo-PGU, Hemicellulase 50 HCU, 100% Vegetarian Capsule (cellulose' water).
For more information on our ingredients policy please see here
Keep out of reach of children.
Vegetarian, Vegan.
Customer Reviews on Trustpilot