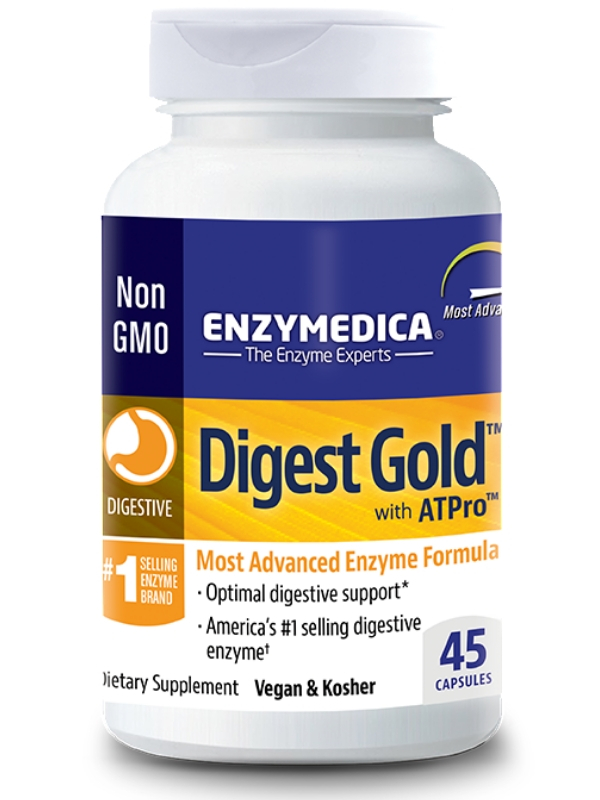 Digest Gold Supplements, 45 Capsules (Enzymedica)
Digest Gold Digestive Aid Supplements (45 Capsules)
Can help to combat gas, cramps, bloating, heartburn and indigestion.
May aid in promoting a healthy digestive system.
With an ATPro enzyme blend.
Dairy-free.
Vegan.
Kosher.
Non-GMO.
Gluten-free.
45 Capsules.
Directions
1 Capsule with each meal. More may be taken as needed. For a more gentle enzyme product, Enzymedica's DigestBasic may be helpful.
Amylase Thera-blend: 23,000 DU, Protease Thera-blend: 80,000 HUT, Glucoamylase: 50 AGU, ATPro (ATP, Magnesium citrate, Alpha Lipoic Acid, CoQ10): 25mg - 300 Million LCU, Alpha Galactosidase: 450 GalU, Cellulase Thera-blend: 3,000 CU, Lipase Thera-blend: 4,000 FCCFIP, Lactase: 900 ALU, Beta Glucanase: 25 BGU, Maltase: 200 DP, Xylanase: 550 XU, Invertase: 240 SU, Pectinase (w/Phytase): 45 Endo-PGU Hemicellulase: 30 HCU, Other Ingredients 100% Vegetarian Capsule (cellulose, water). Keep out of reach of children.
Customer Reviews on Trustpilot