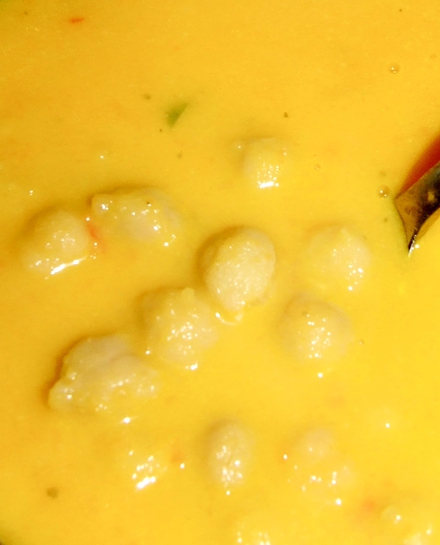 Carrot And Ginger Soup With Chickpeas - Recipe
Recipe contributed by Rakel Sigurdardottir
Rakel is a Nutritional & Health Consultant for Healthy Living.
Ingredients:
700 ml water
3 tsp vegetable broth
400 ml coconut milk
3 large carrots, steamed
200 g chickpeas
1/2 red chili, diced.
3 bulbs of garlic, diced
2 cm fresh ginger root, diced
1/2 red onion, diced
1 tbsp coconut oil
1 tsp lemon juice
Salt & pepper to taste
Diced fresh mint leaves mixed together with the rest in the end
Method:
The carrots are steamed and put in a food processor (possibly with a bit of the water the carrots were steamed in) and blended thoroughly. Chili, garlic, ginger root, red onion and lemon juice are put in a pot together with the coconut oil, let simmer for 2 min. Then put the mixture in the food processor along with the carrots and make into a paste.

Boil the water in a large pot along with the vegetable broth, stir the coconut milk in with the water and let simmer at a low temperature.

The carrot mixture is put in the pot along with the chickpeas and stirred for 2 min.

Use salt & fresh pepper to taste and possibly a bit of fresh, chopped mint leaves.

Incredibly easy and economic soup that is quite nutritious.

Served with home made Naan bread and yogurt sauce.
---
---
Customer Reviews on Trustpilot
---