Below: Sprouted to the first leaf, but you can harvest earlier.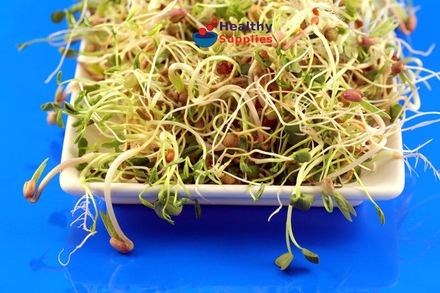 A.Vogel Bioforce Mild Aromatic Mix 40g
The Mild Aromatic Mix contains a smaller proportion of White Radish seeds that its sister mix the
Strong Aromatic Mix
. The flavour is made milder by the inclusion of Lentils as well as Mung Bean. These sprouts will be packed with vitamin C, Folic Acid and multiple minerals. The mix of sprouts provides interest on the plate as well as varying amounts of crunch and bite.
Contents of Pack:
Organically grown, Non-GM Lentils(Puy-style), White Radish and Mung Bean.(Store in a cool, dry place out of direct sunlight.)
Instructions for Use:
Before sowing, rinse thoroughly in fresh water. For best results sow seeds thinly. Use around one-and-a-half tablespoons per jar or tray. Rinse the seeds twice a day whilst germinating. Germination time may vary with room temperature. Harvest once the seed has produced a significant length of stem or after 3-5 days. See photograph on packet for guidance. This 40g pack should provide enough seed for around two harvests.
Organic • Guaranteed gluten-free • Vegetarian, Vegan.
Related Categories

---

Sprouting Kits | Healthy Supplies
BioSnacky Sprouting Kits & Seeds
Edible Seeds | Healthy Supplies
Customer Reviews on Trustpilot
Product Recommendations
---