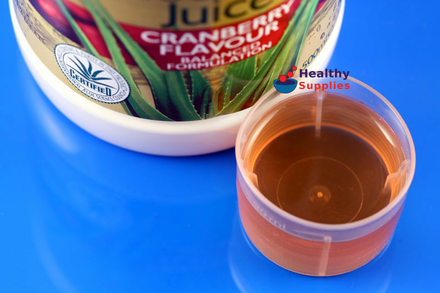 This has the sharp taste of cranberry,
with the general refreshing juiciness of aloe vera.
Aloe Vera Juice with Cranberry 500ml (Aloe Pura)
RRP was: £8.31
Contains natural antioxidants.
Aloe vera may help soothe the digestive system.
Rich in polysaccharides.
Made with real fruit juices.
This aloe vera juice with cranberry is designed to be taken once or twice daily. It has a sharp cranberry taste and and can be consumed straight or added to water or fruit juice.
Cranberry juice contains phytochemicals that are believed to ease a number of urinary conditions, including cystitis. The antioxidants in cranberries can help to defend against the effects of free radicals.
Ingredients:
100% natural aloe vera juice*, water, natural cranberry juice, fructose, antioxidant; ascorbic acid, preservative; potassium sorbate.
For more information on our ingredients policy please see here
Directions
Take 25ml once or twice daily. You can drink it straight, or dilute it with water or fruit juice.
Once opened, refrigerate and consume within 2 months.
RRP was: £8.31
Customer Reviews on Trustpilot
Product Recommendations
---