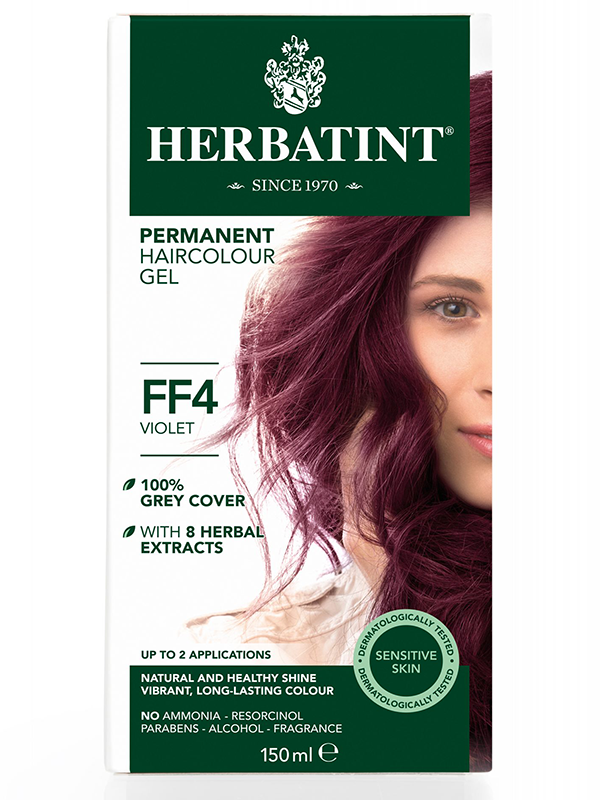 FF4 Violet Hair Colour 150ml (Herbatint)
Permanent Haircolour Gel
Herbatint permanent herbal hair colour in violet.
Provides vibrant, long-lasting colour and natural and healthy shine.
Natural hair tones that reflect every natural hair shade.
Gently and effectively provides complete grey cover.
Free from Ammonia, Resorcinol, Parabens, Fragrance and Alcohol.
Suitable for sensitive skin.
Up to 2 applications per pack.
ALWAYS READ THE LEAFLET & INSTRUCTIONS
Warning: 48 hour skin test advised prior to use. Herbatint permanent herbal hair colours do contain PPD so always be SKIN SAFE and skin test prior to every use. Product has 12 month shelf life after opening as denoted by jar open symbol on the packaging. Not for use on eyebrows or beards.
The packet includes: 1 bottle of Herbatint hair colour 60ml, 1 bottle of Herbatint Glycol Developer 60ml, a sachet of Normalising Shampoo 15ml, a sachet of Royal Cream Regenerating Conditioner 15ml, plastic gloves and application instructions.
For more information on our ingredients policy please see here
Guaranteed gluten-free • Vegetarian, Vegan.
Customer Reviews on Trustpilot