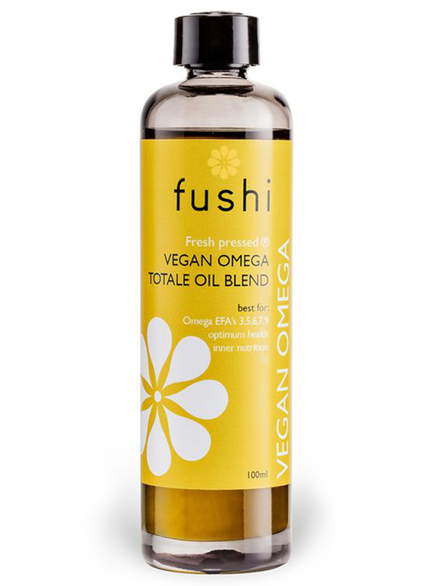 Vegan Omega Oil Blend 100ml (Fushi)
RRP was: £19.75
Vegan Omega Totale Oil Blend
Cold-pressed, fresh from harvest, made in small batches and expertly blended in Fushi's workshop.
Consists of Fig seed oil, Poppyseed oil, Pumpkin seed oil, Algae oil, Pomegranate oil, Sea Buckthorn oil, Flaxseed oil, Hemp seed oil and Avocado oil.
This blend will ensure you receive a full complement of Omega 3, 5, 6, 7 and 9.
A perfect source of essential fatty acids for vegans and vegetarians.
Omega Breakdown: Omega 3 (16%), Omega 5 (7%), Omega 6 (60%), Omega 7 (3%), Omega 9 (15%).
Free from gluten, lactose, sugar, soya, milk products, GMO, Hexane, pesticides and herbicides, artificial colours, additives and preservatives.
This is a non-standardised, unrefined and natural oil. Each batch varies and displays a set of unique characteristics. Sediment or natural particles of the ingredients may be visible in the oil. This is simply down to this oil never being refined, deodorised or filtered, and does not imply the oil is faulty.
You might also like to try...
Ingredients:
Fig Oil (Ficus carica)+, Poppy Oil (Papaver somniferum)+, Pumpkin Oil (Cucurbita pepo)+, Algae Oil (Chlorophyta)+*, Pomegranate Oil (Punica granatum)+*, Sea Buckthorn Oil (Hippophae rhamnoides)+*, Flax Oil (Linum usitatissimum)+*, Hemp Oil (Cannabis sativa)+*, Avocado Oil (Persea americana)+*.
For more information on our ingredients policy please see here
* Certified Organic Oils
+ Fushi Fresh Pressed oils, organic, virgin cold pressed & fresh from harvest
Nutritional Information
| Typical Values | Per 100g |
| --- | --- |
| Energy | 940.6kcal |
| Fig Oil | 15g |
| Poppy Oil | 15g |
| Pumpkin Oil | 15g |
| Algae Oil | 10g |
| Pomegranate Oil | 10g |
| Sea Buckthorn Oil | 10g |
| Flax Oil | 10g |
| Hemp Oil | 10g |
| Avocado oil | 5g |
RRP was: £19.75
Customer Reviews on Trustpilot