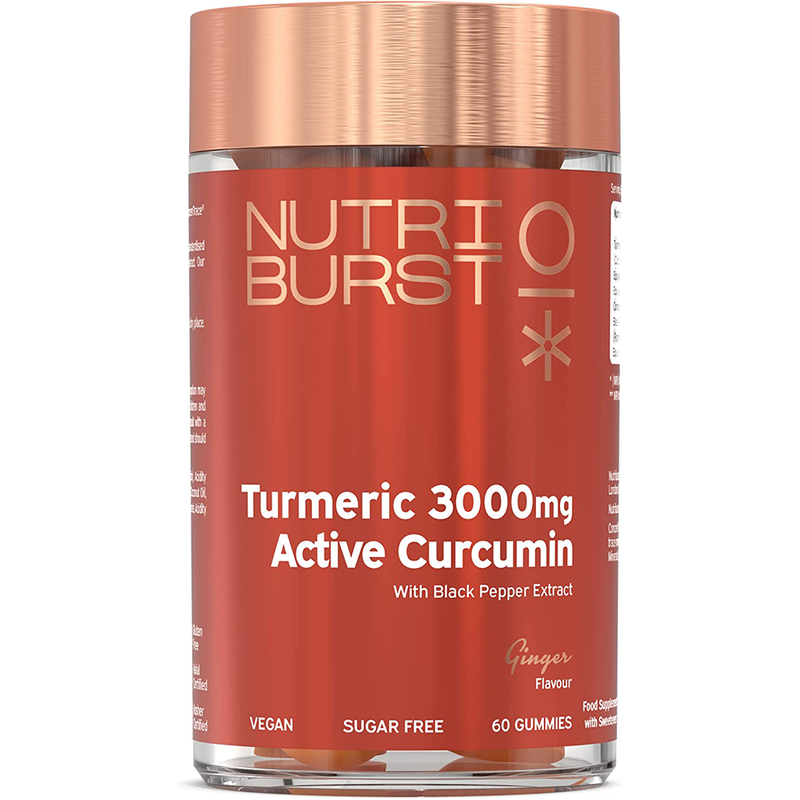 Turmeric 3000mg 60 Gummies (Nutriburst)
Turmeric & Curcumin
Anti-inflammatory
Rich in antioxidants
EXPERIENCE BETTER JOINT, BRAIN, HEART & SKIN HEALTH. Our Nutriburst Turmeric (50mg) gummies contain standardised extract combined plus added Black Pepper Extract (1mg). Turmeric contains the active components curcumin and turmerone, both strong antioxidants that do wonders for your skin, brain, joints and your heart as well as helping to reduce inflammation. Curcumin influences immune cell activity and antibody responses, contributing to a healthy immune response.
ENJOY ONE GINGER-FLAVOURED GUMMY EVERY MORNING. Curcuminoids are guaranteed to make up 95% of this high-quality Turmeric Root Extract selected by the team. Why combine with black pepper? Black Pepper Extract is a highly effective combination with Turmeric extract and has been shown to increase your ability to absorb turmeric into your body to make it available for use.
FEEL CONFIDENT IN THE QUALITY OF YOUR SUPPLEMENTS. We carefully select premium ingredients, with superior bioavailability to support your daily nutritional needs. All our botanical extracts are premium, traceable, and guaranteed to contain standardised quantities of actives. We choose only the best suppliers with the highest quality standards. We have also selected our balanced blend of ionic minerals Concentrace, originating from Utah's inland sea.
EXPERIENCE ADVANCED NUTRITION WITH CLEAN RESOURCES & NATURAL INGREDIENTS. Nutriburst was formed out of a desire to produce vitamins that are the perfect supplementation to the human body. We use clean resources with active ingredients in their most bioavailable forms, that are sweetened from plants and are, in fact, zero sugar and have only natural fruit flavours and natural food colours. Our supplements are free from gluten, artificial flavours and colours.
FEEL GOOD FOR CONSUMING SUSTAINABLE NUTRITIONAL SUPPLEMENTS. Our supplements are manufactured responsibly in an earth-positive way to continually reduce our impact on our environment and on the various ecosystems that impact our production cycle. We are committed to perfecting our practices to use the Earth's resources responsibly, without polluting the environment, eliminate wastage and supplement our resource consumption by giving back to our various ecosystems.
Directions
Chew 2 gummies per day, with a main meal. Do not consume more than 2 gummies per day.
Sweeteners (Maltitol, Isomalt), Water, Gelling Agent (Pectin), Acidity Regulator (Citric Acid), Turmeric (Curcuma longa) Extract, Vegetable Oil (Coconut Oil, Glazing Agent [Carnauba Wax]), Natural Flavour, Concentrace® Trace Minerals, Acidity Regulator (Sodium Citrate), Black Pepper (Piper nigrum) Extract.
Guaranteed gluten-free • Vegetarian, Vegan.
Customer Reviews on Trustpilot