| | |
| --- | --- |
| Sussex Wholefoods Gourmet Range | |
The Sussex Wholefoods Gourmet range takes taste and quality one step further.. We source, taste, select and hand-pack the best produce currently available!

Produce is GMO-free & organic wherever possible.
The foods contain no additives, preservatives or processing oils.
The crops are grown by small farmers' groups, who are given support towards sustainable production.
Produce is chosen from regions known for having the best soil & climate for that particular ingredient.
Ingredients are harvested at the optimal time, dried naturally & handling is kept to a minimum.
The foods are laser-sorted for absence of shells & foreign bodies.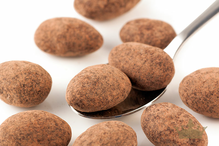 Roasted Almonds in Chocolate & Cinnamon Spice Sweet, crunchy and almost festive-flavoured luxury bites. Unglazed, au naturel!
Customer Reviews on Trustpilot
Product Recommendations