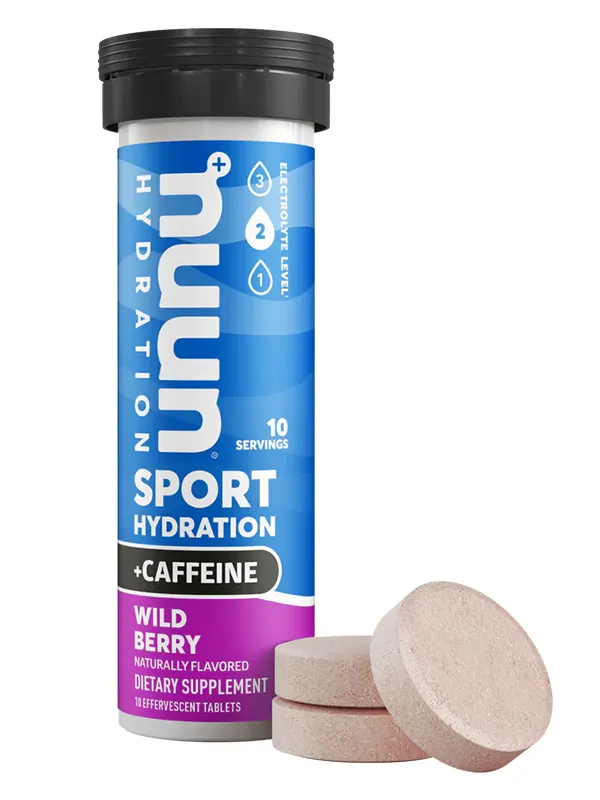 Sport Wild Berry Caffeine 10 Tabs (Nuun)
Email me when this product is back in stock
Sport Wild Berry with Caffeine Effervescent Tabs
Nuun is a com­pa­ny ded­i­cat­ed to keep­ing you as hydrat­ed as human­ly pos­si­ble. They began as the first com­pa­ny to sep­a­rate elec­trolyte replace­ment from carbohydrates. Over a decade lat­er, Nuun Hydra­tion is hydrat­ing the plan­et one run­ner, cyclist, climber, moth­er at a time- the list goes on.
Designed by ath­letes, for ath­letes, Nuun is a clean-ingre­di­ents sports drink packed with elec­trolytes that replace what is lost when you sweat.
Low Sug­ar
High Qual­i­ty Ste­via, no aftertaste
No Sor­bitorl
No Sucralose
15 calories per tab
Citric Acid, Dextrose, Sodium Carbonate, Sodium Bicarbonate, Potassium Bicarbonate, Natural Flavours, Potassium Chloride, Organic Green Tea Extract, Magnesium Oxide, Beet Powder Colour, Calcium Carbonate, Malic Acid, Stevia Leaf Extract, Avocado Oil, Spirulina Extract (for colour).
Guaranteed gluten-free • Vegetarian, Vegan.
Customer Reviews on Trustpilot