Organic buckwheat puffs...
the light, healthy breakfast cereal.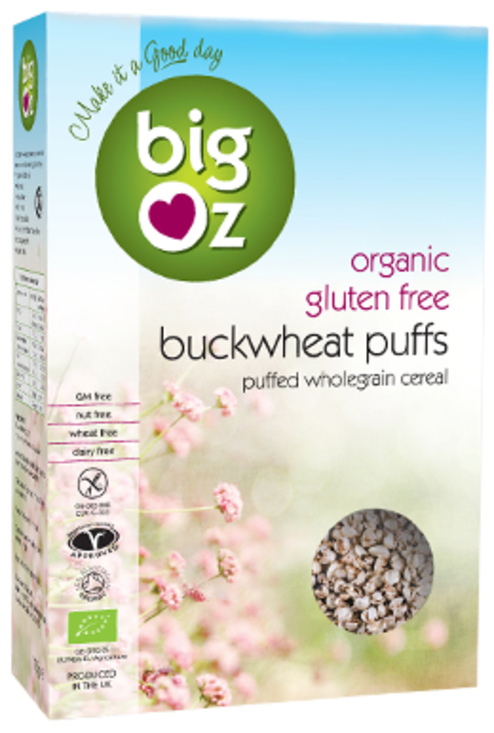 Buckwheat Puffs: Puffed Buckwheat 175g (Big Oz)
Buckwheat Puffs - Breakfast Cereal
A light breakfast cereal.
Gluten-free.
Ideal on their own or mixed with nuts, fruits etc.
100% organic buckwheat with no added ingredients.
Big Oz Puffed 100% Buckwheat is suitable for those with special dietary needs, such as gluten intolerance and low-sodium diets.
The puffs are simultaneously crunchy and chewy, and surprisingly filling. Buckwheat puffs have a distinctive flavour which is hard to describe. They taste a little like they have been dipped in honey or caramel, but without the sweetness! They can be mixed up with other puffed cereals and to add some natural sweetness we recommend choosing a dried fruit to mix in with them.
Packed in a nut-free environment.
Ingredients:
Organic buckwheat 100%.
For more information on our ingredients policy please see here
Nutritional Information
| Typical Values | per 100g |
| --- | --- |
| Energy | 1501kJ/359kcal |
| Protein | 10g |
| Carbohydrate | 76.6g |
| Fat | 3.4g |
| Sugar | 0.4g |
| Dietary Fibre | 5.1g |
| Sodium | 1.5mg |
| Potassium | 445mg |
Organic • Guaranteed gluten-free • Vegetarian, Vegan.
Customer Reviews on Trustpilot
Product Recommendations