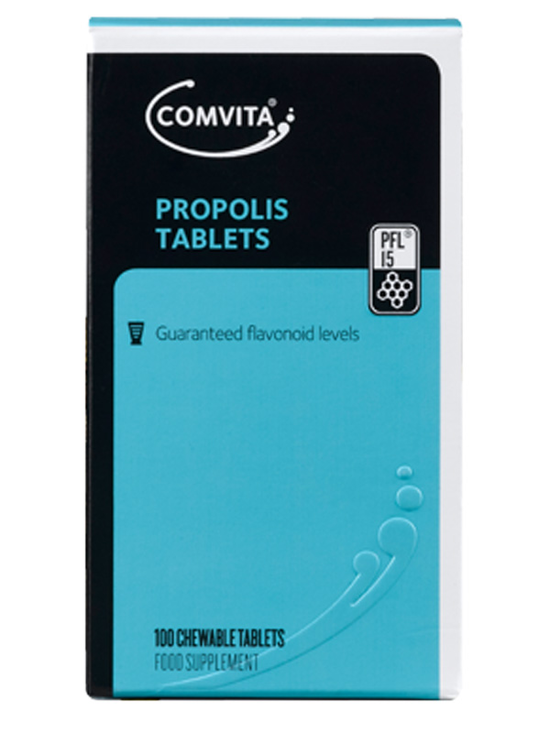 Propolis 100 Tablets (Comvita)
This product is temporarily out of stock.
Propolis Tablets PFL15
Chewable Comvita Propolis Tablets contain high levels of bioflavonoids. Propolis is created by bees from the natural resin produced by trees as part of their defence system. Honey bees collect the resin, mix in beeswax and enzymes, and use it to protect their hives from infection. Comvita's PFL® stands for Propolis Flavonoid Level and refers to the flavonoid content found in 2 Propolis tablets. PFL® 15 delivers at least 15mg of Propolis flavonoids per 2 tablets.
WARNINGS: Propolis may cause severe allergic reactions. If irritation or swelling of the mouth or throat occurs, discontinue use and seek medical advice immediately. Pregnant or Lactating Women: Consult your healthcare practitioner before use.
You might also like to try...
Ingredients:
EACH 4 TABLETS CONTAIN: Isomalt (bulking agent), Cellulose-microcrystalline (bulking agent), Propolis extract (200mg pure Propolis, equivalent to 572mg fresh Propolis), Glyceryl monostearate (stabiliser), Silicon dioxide (anticaking agent).
Suitable for vegetarians. For more information on our ingredients policy please see here
This product is temporarily out of stock.
Customer Reviews on Trustpilot