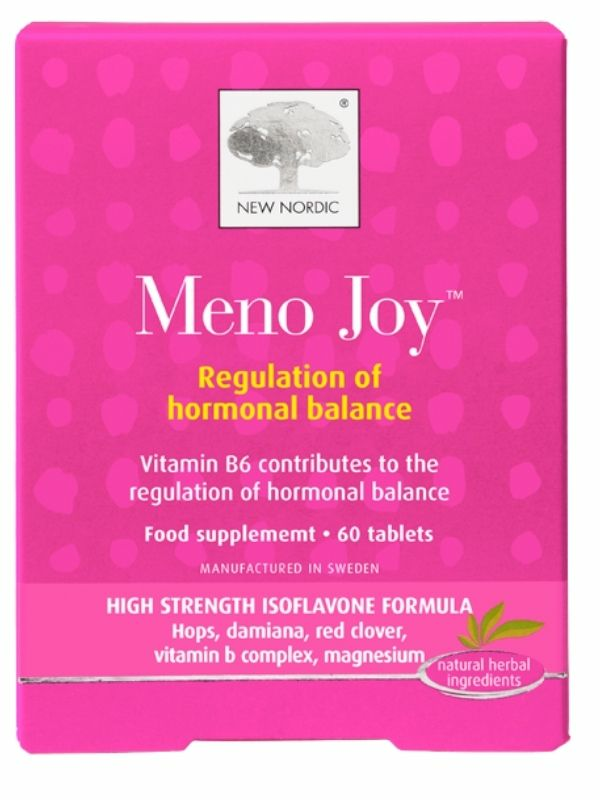 Meno Joy 60 tabs (New Nordic)
Menopause Supplement
Menopause is a natural stage in life that every woman goes through. Meno Joy provides nutritional support during this period of change. The Meno Joy tablet is based on a combination extract of hops and red clover, which provides a variety of natural isoflavone types. Red Clover helps you maintain calm and comfortable menopause. Meno Joy also includes natural extract damiana, magnesium, and vitamin B. Magnesium and vitamin B contribute to the normal function of the nervous system and reduces tiredness and fatigue. During menopause, a woman's ovaries produce less oestrogen and progesterone. Vitamin B6 further contributes to the regulation of hormonal activity. The tablet's content of magnesium and vitamin D contributes to the maintenance of normal bones. Vitamin D also contributes to the absorption and utilization of calcium from the diet.
Hops, damiana, red clover, vitamin b complex and magnesium.
Regulation of hormonal balance.
60 tablets.
Directions
Take 2 tablets per day with or immediately after any main meal.
Red clover extract (Trifolium pratense L.), magnesiumcarbonat, damiana extract (Turnera diffusa L.), filling agents (microcrystalline cellulose, cross bound sodium carboxymethyl cellulose), hops extract (Turnera diffusa L.), coating agents (hydroxypropylcellulose, magnesium stearate), nicotinamide, anticaking agent (siliciumdioxide), calcium-D-pantothenate), cyanocobalamin, cholecalciferol, riboflavin, pyridoxinhydrochlorid, folic acid, D-biotin.
| Typical Values | Per 2 tablets |
| --- | --- |
| Red clover flower extract (Trifolium pratense L.) - standardised to 8% isoflavones | 624mg |
| Hops cone extract (Humulus lupus L.) | 100mg |
| Damiana arial part extract (Turnera diffusa L.) - 5:1 equivalent to 1250 mg dried herb | 250mg |
| Vitamin D | 6mcg |
| Thiamin (B1) | 1.1mg |
| Riboflavin (B2) | 1.4mg |
| Niacin | 16mg |
| Vitamin B6 | 1.4mg |
| Folic acid | 200mcg |
| Vitamin B12 | 2mcg |
| Biotin | 50mcg |
| Pantothenic acid | 6mg |
| Magnesium | 124mg |
Guaranteed gluten-free • Vegetarian, Vegan.
Customer Reviews on Trustpilot