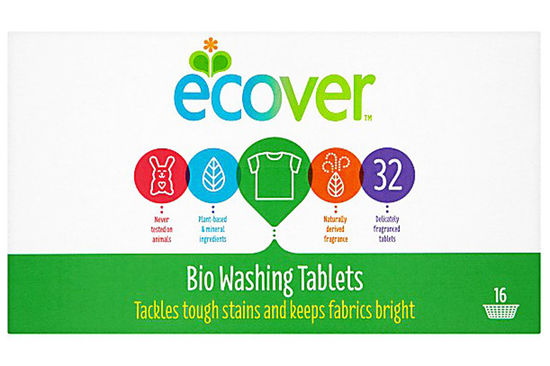 This product is temporarily out of stock.
Laundry Tablets - 32 Pack (Ecover)
This product is temporarily out of stock.
Bio Laundry Tablets
Effective even at low temperature washing.
Suitable for white and coloured laundry.
No optical brighteners.
Easy and convenient to use.
Made from plant-powered, biodegradable ingredients.
100% Plant-astic & 100% Recyclable packaging.
You might also like to try...
Directions:
Use two tablets for a load of normally soiled laundry. Remove the tablet from the wrapper and place it into the dispenser. Run your machine as per the manufacturers instructions. Use three tablets for heavily soiled laundry and for hard water.
Not recommended for handwashing.
Ingredients:
Sodium Carbonate Peroxide, Zeolite, Sodium C12-18 Alkylsulfate, Cellulose, Sodium Bicarbonate, Ethoxylated Rapeseed Methyl Esters, Sodium Disilicate, Sodium Poly Asparaginate, Tetra Acetyl Ethylene Diamine, Sodium Citrate, Bentonite, Sodium Cocoate, Glycerin, Cellulose Gum, Magnesium Sulfate, Methylcellulose, Parfum, Limonene, Linalool, Subtilisin.
The list above displays ingredients in descending order, with those present in highest quantities first. For more information on our ingredients policy please see here
This product is temporarily out of stock.
Customer Reviews on Trustpilot