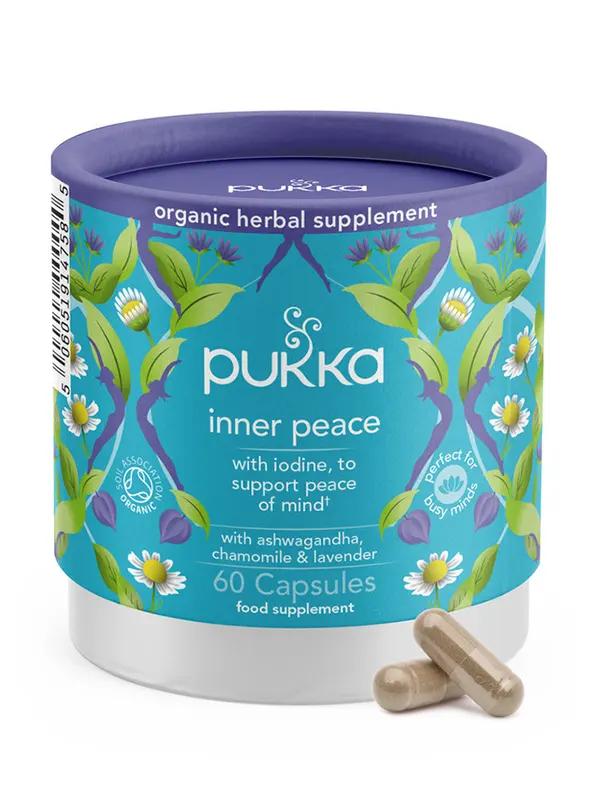 Organic Inner Peace 60 Capsules (Pukka)
Email me when this product is back in stock
Get support towards a calm, unworried mind.
As the pressure of modern life weighs heavy on our minds, it can leave us feeling overwhelmed and in need of some tender love and care. You can find a shoulder to lean on in the form of Pukka's Inner Peace capsules. Using this synergistic blend of natural organic botanicals eases worries and supports long-term resilience.
Our Inner Peace capsules are natural supplements, containing an organic herbal combination of ashwagandha, chamomile and lavender to support resilience and promote a sense of calm. Buy them today to settle a worried mind or support you on a daily basis. The formula contains iodine, which contributes to normal cognitive function, energy-yielding metabolism, and the normal functioning of the nervous system.
Directions
Twist to open the card tube. Take 2 capsules a day with water. To keep the ingredients at their optimum quality secure or fold down the inner bag once open and use within 3 months.
Per 2 capsule serving: Ashwagandha root* (915mg), Chamomile flower* (282mg), Seagreens® Arctic fresh seaweed*, Lavender flower extract* (28mg), Vegetable cellulose capsule (hydroxypropyl methyl cellulose).
* = Organic

Organic • Guaranteed gluten-free • Vegetarian, Vegan • Fairtrade.
Customer Reviews on Trustpilot