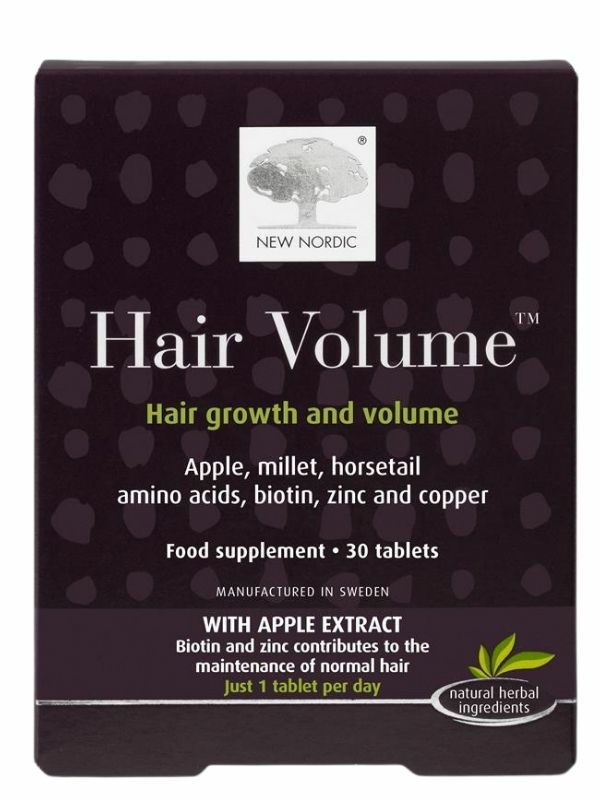 Hair Volume 30 tablets (New Nordic)
Hair Treatment
Hair Volume™ is a clinically proven tablet that gives visibly thicker, more beautiful, shinier hair. It contains apple extract in combination with millet, horsetail, amino acids, biotin, zinc and copper. It channels nutrients to the scalp and hair follicles, where hair is formed. The zinc and biotin help maintain normal hair, skin and nails. Copper contributes to maintaining the normal pigmentation of the hair.
Directions
Take 1 tablet daily in combination with a meal or a glass of water.
Filling agent (microcrystalline cellulose), apple extract (Malus Domestica Borkh.), millet extract (panicum miliaceum L.), horsetail extract (equisetum arvense L.), L-cysteine, L-methionine, water, vitamins (calcium D-pantothenate, D-biotin), coating agents (magnesium salts of fatty acids, hydroxypropylmethylcellulose), minerals (zinc oxide, cupric sulphate), disintegrator (cross-linked sodium carboxymethyl cellulose), anticaking agent (silicon dioxide).
| Content Per Daily Intake | Per 1 tabl. |
| --- | --- |
| Apple extract (Malus domestica Borkh) 5:1 | 300mg |
| Millet extract (Panicum miliaceum L.) 5:1 | 250mg |
| Horsetail extract (Equisetum arvense L.) | 200mg |
| L-cysteine | 60mg |
| L-methinonine | 50mg |
| Biotin | 475mcg |
| Pantothenic acid | 30mg |
| Zinc | 10mg |
| Copper | 1mg |
Guaranteed gluten-free • Vegetarian.
Customer Reviews on Trustpilot