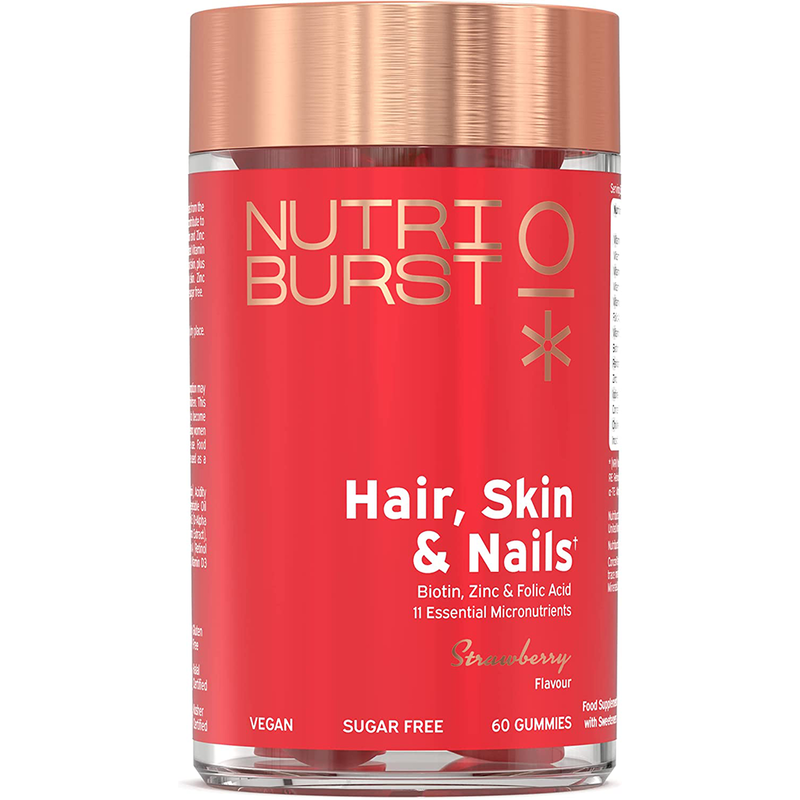 Hair, Skin and Nails 60 Gummies (Nutriburst)
Hair, Skin & Nails
Strengthens hair, skin & nails
Supports collagen production
Protects cells from stress
WHAT'S IN THIS VITAMIN? Flavoured with natural strawberry extracts, this plant based, chewable vitamin blend for adults contains 13 vitamins and minerals to nourish you from the inside. Let's face it: we don't just want to feel good, we like to look healthy too. Each gummy contains 5,000µg Biotin, 2.7mg Zinc, Vitamin A (630µg), C (20mg), E (15mg), D, B6, B12, Folic Acid, Iodine, Pantothenic Acid, Choline Bitartrate, Inositol.
BENEFITS: Want healthy hair, radiant skin & strong nails? Vitamin C is a strong all-rounder as it helps create collagen, Vit E is essential for healthy skin (including your scalp), Biotin boosts natural keratin for glossier hair, Zinc can strengthen and hydrate hair & nails and Vitamin A nourishes all layers of your skin for deep radiance. Vitamins A and C get together to create a glowy complexion. Sugar isn't skin-friendly, so these gummy vitamins give you one less thing to worry about.
ABOUT OUR GUMMIES: Take 2 gummies per day, each jar contains 60 gummies (a 1 month supply). All our chewy gummies include active ingredients to give you a great blend of vitamins for your wellbeing. All our products are sugar free and use plant-based sweeteners instead. Why gummies not tablets? Gummy vitamins are more easily absorbed by the body, are easier to swallow and taste better! Suitable for teenagers and anyone over the age of 12.
VEGAN & CRUELTY-FREE: Nutriburst gummies are proudly vegan & vegetarian friendly, halal suitable, non gmo, cruelty free, gluten free and contain no artificial flavours. They are also free from nuts, eggs, milk and soy. All our vitamins have been made to the highest quality and have been independently lab tested. Our manufacturing facility is BRC approved. Both the bottle and lid are recyclable and we have also partnered with Plastic Bank to help reduce ocean waste.
WHY NUTRIBURST? A unique range of delicious sugar-free and vegan gummies enriched with vitamins, botanical extracts, and minerals, designed to leave your mind and body feeling invigorated and uplifted. Supplements are really helpful to help make up for a shortfall in nutrients, especially where diets are deficient in minerals and vitamins. Nutriburst gummies taste great, come in ideal nutrient combinations and don't contain refined sugar nor additives and are recommended by nutritionists.
Directions
Chew 2 gummies per day, with a main meal. Do not consume more than 2 gummies per day.
Vitamin C. Vitamin E. Vitamin A. Biotin. Zinc. Bulking Agents (Maltitol. Isomalt), Gelling Agent (Pectin), Acidity Regulators (Citric Acid, Sodium Citrate), Vitamin E (DL-Alpha Tocopheryl Acetate), Vitamin C (Ascorbic Acid), Natural Strawberry Flavouring, Colour (Titanium Dioxide, Purple Carrot Juice Concentrate), Glazing Agent (Vegetable Oil (contains Carnuba Wx)), Zinc Citrate, Vitamin A (Retinyl Acetate), Vitamin B5 (Calcium Pantothenate), D-Biotin, Vitamin D, Vitamin B6 (Pyridoxine HCI), Vitamin B12 (Cyanocobalamin), Folic Acid, Potassium Iodide, Choline Bitartrate, Inositol
Guaranteed gluten-free • Vegetarian, Vegan.
Customer Reviews on Trustpilot