Mild Mexican Guiajillo chillies.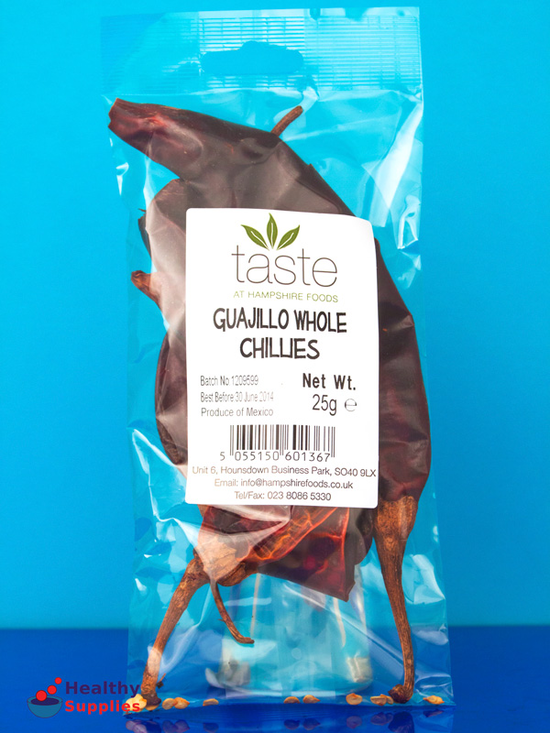 Guajillo Chillies, Whole 25g (Hampshire Foods)
Gentle Guajillo Chillies
Used for their flavour more than for heat.
Medium-mild heat.
Perfect for meat marinades, sauces and dips.
From Mexico.
Guajillo chillies are Mexican chillies used for their medium-mild spicy flavour. They are typically used in spicy meat rubs, marinades, mild sauces and salsa dips. These chillies sit somewhere in the middle of the heat scale, and will add a gentle but noticeable heat to any meal.
Directions
In meat marinades: Remove stalks and finely chop before use. Mix with balsamic vinegar, honey and lemon juice. Score the meat and place in a bowl. Pour over the marinade and leave for at least an hour before frying or roasting.
In salsa dips: For a mild salsa. Remove stalks and chop. Pour tomatoes (tinned, cooked or raw: any will do fine) into a blender and add the chopped Guajillo chillies, chopped onions, peppers, garlic and coriander. Serve raw for an authentic Mexican experience.
Ingredients:
Guajillo chillies, dried. Produce of Mexico.
For more information on our ingredients policy please see here
Vegetarian, Vegan.
Customer Reviews on Trustpilot
Product Recommendations