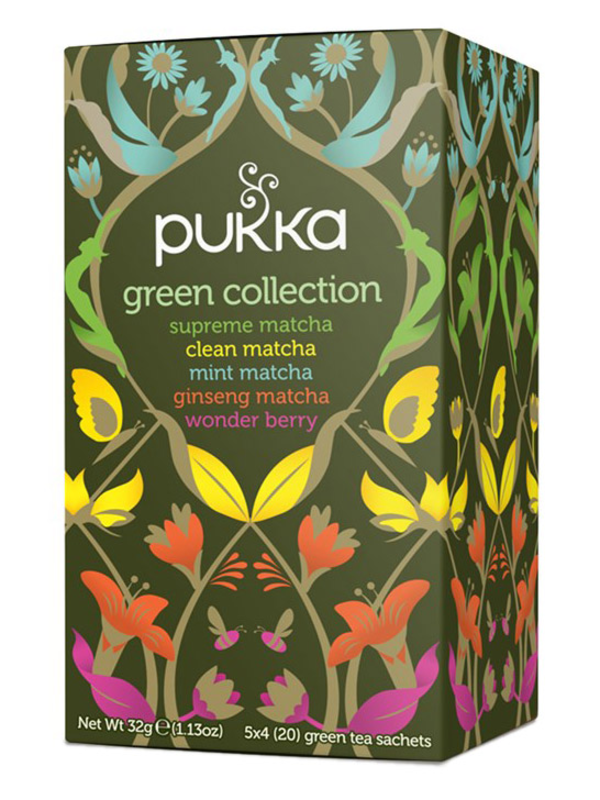 Green Collection, x20 sachets (Pukka)
Matcha Green Tea Selection Box
A collection of matcha green tea blends includes:
x4 Supreme Matcha.
x4 Clean Matcha.
x4 Mint Matcha.
x4 Ginseng Matcha.
x4 Wonder Berry.
Specially formulated to provide flavour & refreshment.
Dip in a sip a different matcha tea each day.
Conveniently wrapped for portability.
Box contains four sachets of each of the 5 blends.
This is a great taster box for anyone who fancies exploring the world of matcha tea. The flavour combinations of matcha green tea, herbs and fruits which create these infusions, offer deep refreshment. This selection box includes sachets of the Pukka's finest 'Supreme Matcha' tea blend, for the purist.
A handy pack for households who love their green tea and who want to try something a little different!
Directions for Use
To get the best from each tea blend, infuse for at least 3 minutes in freshly boiled water that has been allowed to cool a little.
Organic • Vegetarian, Vegan.
Customer Reviews on Trustpilot