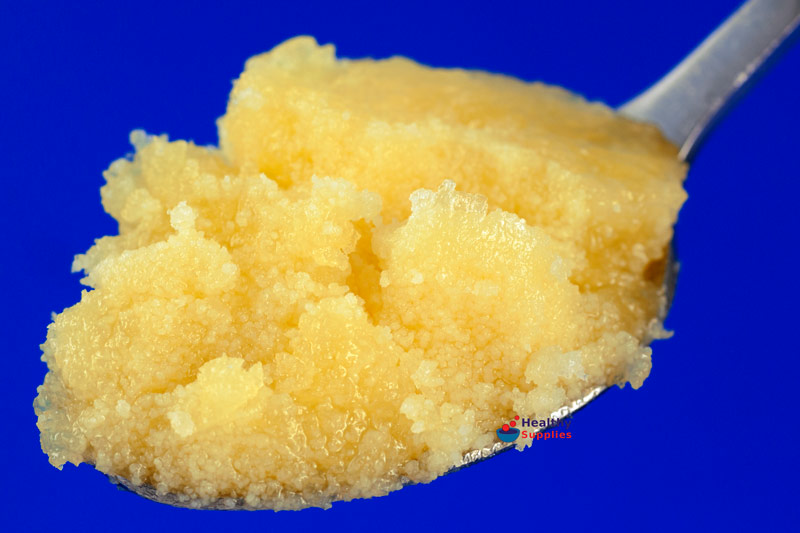 Organic Ghee 300g (Pukka)
This product is temporarily out of stock, but you can try
Ghee 500g, Organic (Ghee Easy)
instead
Email me when this product is back in stock
Organic Clarified Butter - 100% Pure Ghee
Ghee is now considered healthy!
Made from fresh organic cows milk.
Lactose free, vegetarian friendly.
High smoke point.
Use in place of oil or normal butter.
For a long time, ghee was considered unhealthy, but recent evidence from research has shown that the fats in ghee are actually "good" fats. This doesn't mean that you should go bananas and suddenly smother everything in ghee, but rather that switching to ghee from vegetable oil, for example, can lead to health benefits!
Ghee does not have the milk solids found in butter, so has a very high smoke point and is suitable for almost all frying. Ghee is rich in medium-chain fats and in this sense is similar to coconut oil, another "healthy" fat. Use ghee in curries or as a general cooking oil.
Ghee is pure butterfat and does not contain the milk solids of normal butter. It is these milk solids than can cause odours and flavour issues when frying or roasting with conventional butter.
Ghee will fry and roast your food cleanly without burning as it has a high smoke point. It offers a rich, sweet and nutty flavour making it ideal for a variety of cooking methods including roasting, sauteeing and frying.
Clarified butter is also useful for those who cannot tolerate Lactose or Casein as it does not contain either. This is a versatile and flavoursome cooking fat.
This clarified butter also contain 1.7g of Omega-9 per 10g serving.
Organic Ghee from cows milk.
Produce of the EU.
Refrigerate after opening. This is a natural product so some variations in colour may occur.
| Typical Values | Per 100g | Per 10g Serving |
| --- | --- | --- |
| Energy | 895kcal | 89.5kcal |
| Protein | 0.1g | 0.01g |
| Carbohydrates | 0.4g | 0.04g |
| _of which sugars | <0.1g | <0.01g |
| Fat | 99.3g | 9.9g |
| _of which saturates | 66.3g | 6.6g |
| _of which mono-unsaturates | 21.3g | 2.1g |
| -of which polyunsaturates | 2.2g | 0.2g |
| Salt | 0.004g | 0.0004g |
Customer Reviews on Trustpilot