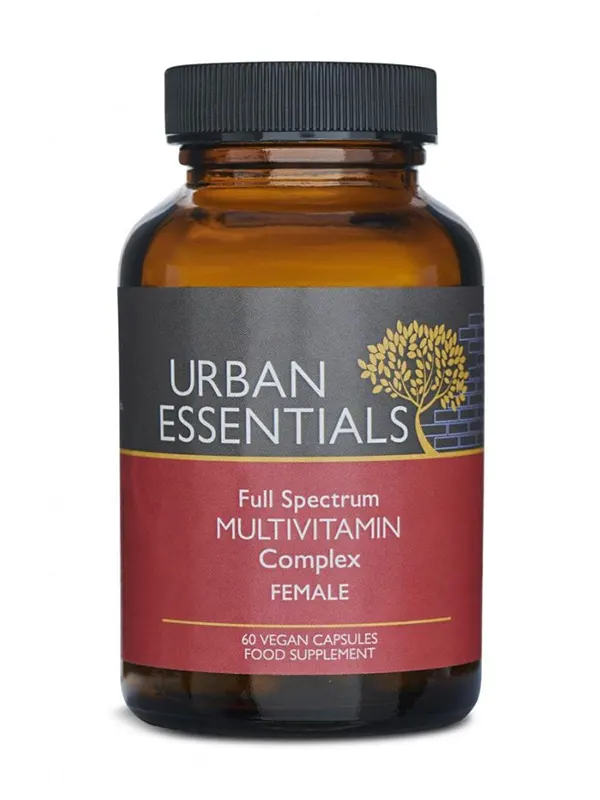 Full Spectrum Multivitamin Complex Female 60 Capsules (Urban Essentials)
Email me when this product is back in stock
Female Multivitamin Complex
The demands of urban life can really wear you down – lack of energy, general lethargy and tiredness, irritating colds and lack of focus. Our Female Multivitamin Complex is a unique formulation comprising 30 essential nutrients specifically designed and formulated for women to support your busy lifestyle, your immune system and your general wellbeing. It also contains key ingredients necessary to support female health.
Women often have different requirements for certain nutrients (iron, for example, because of menstruation) compared to men, so we have adjusted certain nutrient levels accordingly to more appropriately support your health and wellbeing. As well as the core ingredients you'd expect in a multivitamin, our Female Multivitamin Complex also uses some active ingredients specifically targeted to support women's health:
Vitamin K2 is believed to support heart health and improve circulation, as well as supporting optimum calcium distribution to bones and teeth
Folic acid (MTHF) contributes to reduction of tiredness and fatigue, as well as normal psychological and immune system functioning
Iron contributes to normal cognitive function, normal energy-yielding metabolism and normal formation of red blood cells and haemoglobin. Iron also contributes to the normal function of the immune system, and reduction of tiredness and fatigue
Siberian Ginseng is an adaptogen, helping your body to be better able to deal with physical, emotional and environmental stress. It also contributes to normal functioning of the nervous system, normal energy-yielding metabolism and normal cognitive function
Ashwagandha, sometimes known as Indian ginseng, also has adaptogenic properties, and can help your body to manage stress. It contains chemicals that may help reduce inflammation, lower blood pressure and support the immune system
Cranberries have a high nutrient and antioxidant content, and have been traditionally linked to female health support and a lower level of urinary tract infections
Explore our similar products...
Ingredients:
Cranberries, Vitamin K2, Folic Acid (MTHF), Iron, Siberian Ginseng, Ashwagandha.
For more information on our ingredients policy please see here
Urban Essentials Female Multivitamin Complex combines a range of complementary ingredients into a single, synergistic dose in optimum quantities. They are easy to use, just two capsules a day, with each bottle containing a full month's supply.
Customer Reviews on Trustpilot