| | |
| --- | --- |
| Dried Apricots: Nutritional Information | |
---
General Information
Dried Apricots are a popular health food, and are generally eaten as a snack. They are filling and high in fibre, and an excellent alternative to unhealthy snacks such as chocolate or crisps.
It's important to note that dried apricots come in two forms. The most familiar form - the bright orange type - actually contain a preservative, sulphur dioxide. We do not sell these types of apricots at Healthy Supplies, because we believe that the sulphur is unnecessary.
---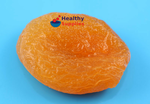 The type of dried apricot on the left - the bright orange type - contains sulphur dioxide (E220). This is added because it prevents oxidization of the pigments within the fruit. This oxidization can cause the apricots to become dark in colour. However, from a nutritional perspective, this sulphur dioxide is completely unnecessary.
We do stock sulphured apricots, but much prefer you to purchase the dark ones! More Info >
---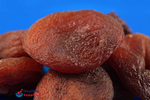 Unsulphured dried apricots are naturally dark in colour, because no preservatives are used to keep the apricots looking bright and orange. The drying process is preservative in itself, and the apricots are nutritionally identical to the sulphured type - except without the additives.
These are 100% pure dried apricot.
These naturally dark apricots are also tastier. The oxidization of the pigments in the skin also helps to create natural tannins, which impart a deeper, more apricoty flavour.
---
General Nutritional value of Dried Apricots
The typical nutritional values of dried apricots is as follows:
| Typical Values | per 100g |
| --- | --- |
| Energy | 348 calories |
| Protein | 4.1g |
| Carbohydrates | 58g |
| Of which natural sugars | 58g |
| Fat | 0.6g |
| of which saturates | Less than 0.1g |
| Fibre | 9.9g |
| Sodium | Less than 0.02g |
| Iron | 5.18mg (27% of RDA) |
| Vitamin A | 797mg (59% of RDA) |
---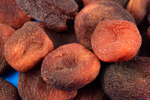 Choose from our selection of preservative-free dried apricots at Healthy Supplies.
---
Customer Reviews on Trustpilot