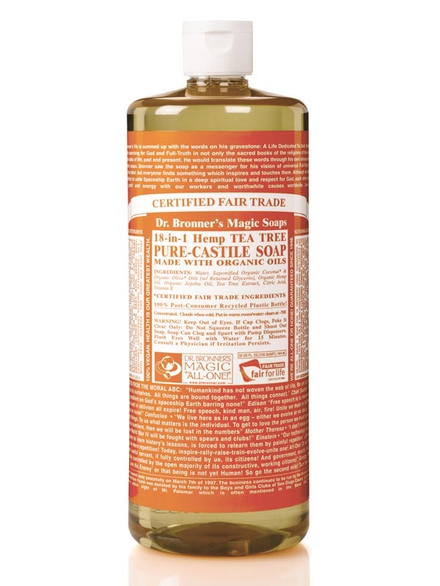 This product is temporarily out of stock.
18-in-1 Hemp Tea Tree Castile Soap 946ml (Dr. Bronner's)
This product is temporarily out of stock.
Biodegradable Tea Tree Castile Liquid Soap
Soothing scent of Tea Tree.
Antiseptic properties.
Use on your body, hair, face or as a cleaning product.
Contains Coconut, Olive, Jojoba and Hemp oils.
No synthetic detergents or preservatives and SLS free.
Certified organic.
Not tested on animals and fair trade.
Directions:
Dr. Bronner's 18-in-1 Soaps are good for just about any cleaning task: face, body, hair – food, dishes, laundry, mopping or pets. In the bath or shower, you only need one small squirt of soap onto a wash cloth or loofah, lather up and rinse with lukewarm water.
To wash hair work 1/2 Tbsp into wet hair until it lathers, then rub and rinse. After washing, follow up with a lightly acidic conditioning rinse, like a diluted apple cider vinegar or lemon juice!
For more directions please visit Lisa Bronner's blog.
You might also like to try...
Ingredients:
Water, Organic Coconut Oil*, Potassium Hydroxide**, Organic Olive Oil*, Tea Tree Extract, Organic Hemp Oil, Organic Jojoba Oil, Citric Acid, Tocopherol

*Certified fair trade ingredients
**None remains after saponifying oils into soap & glycerin
For more information on our ingredients policy please see here
This product is temporarily out of stock.
Related Categories

---

Miscellaneous Cleaning Products
Multi Purpose Soap & Hygiene
Tea Tree Oil Products
Shower, Bath & Soap
Shower & Bath
Hemp Beauty
Dr Bronner's
Home & Beauty
Customer Reviews on Trustpilot
Product Recommendations
---