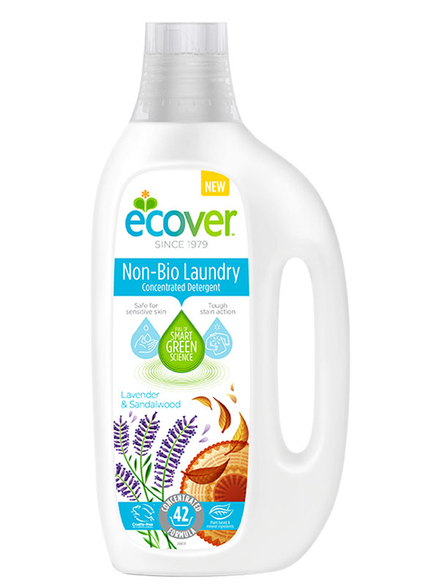 Special Offer: Was: £8.95
Non-Bio Concentrated Laundry Liquid 875ml (Ecover)
Special Offer: Was: £8.95
Non-Bio Concentrated Laundry Liquid
Tough on stains, gentle on the skin.
Concentrated formula.
Subtle Lavender & Sandalwood fragrance.
Works even at low temperatures.
Suitable for white and coloured laundry.
Made from plant-powered, biodegradable ingredients.
100% Plant-astic & 100% Recyclable packaging.
You might also like to try...
Ingredients:
15-30%: Non-ionic surfactants, 5 – 15%: Anionic surfactants, Soap. <5%: Perfume (Limonene, Linalool; may produce an allergic reaction, Butylphenyl, Methylpropional).
Other: Water, Alcohol denat, Sodium citrate, Glycerin, Trisodium ethylenediamine disuccinate, Polypropylene terephalate, Citric acid.
Dipropylene glycol, Aqua, Fatty alcohol ethoxylate C12-18, Sodium lauryl sulfate, Potassium oleate, Alcohol denat, Sodium citrate, Laureth-7, Glycerin, Trisodium Ethylenediamine Disuccinate, Polypropylene terephthalate, Parfum, Citric acid, Limonene, Linalool, Butylphenyl methylpropional.
Special Offer: Was: £8.95
Related Categories

---

Laundry Liquids
Ecover
Home & Beauty
Customer Reviews on Trustpilot
Product Recommendations
---