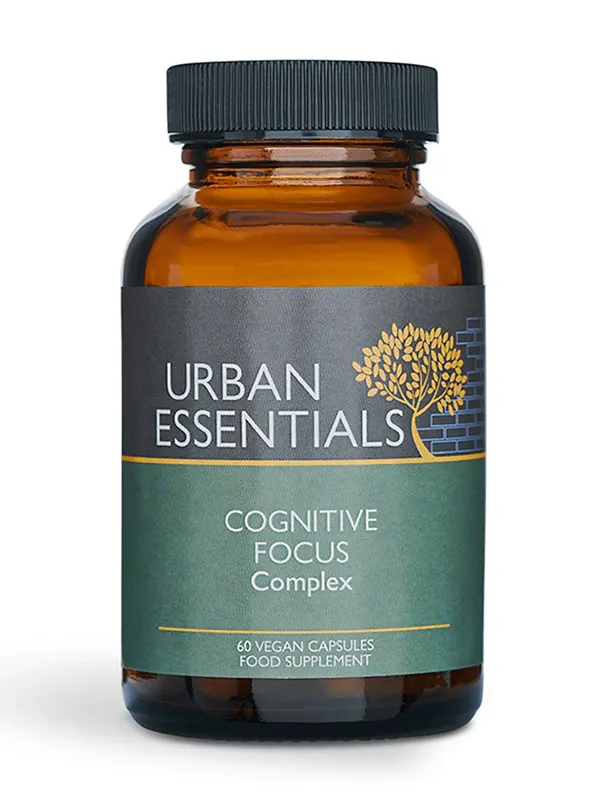 Cognitive Focus Complex 60 Capsules (Urban Essentials)
Email me when this product is back in stock
Cognitive Focus Complex
Urban life can be both mentally as well physically demanding, and we often don't take care of our mental health as well as we should do. Too much stress, whether work or home related, can sometimes make us feel lethargic and impact our ability to think clearly. Our Cognitive Focus Complex is a unique formulation comprising 14 essential nutrients specifically designed to support your mental wellbeing and cognitive performance, in today's hectic world.

As well as the core ingredients you'd want in a cognitive complex, particularly choline (which supports the functioning of brain neurotransmitters) biotin and other B vitamins (which contribute to normal mental and psychological function) our Cognitive Focus Complex also uses a novel combination of potent natural plant extracts specifically selected to support your brain function, and improve your mood and mental focus:

Ginkgo Biloba has been used in traditional Chinese medicines for centuries, and is believed to have strong antioxidant properties. It supports general cognitive function by promoting good blood circulation, and is associated with brain performance and reactivity. It can help to maintain mental wellbeing, and support memory function during ageing, as well as supporting mental performance, vision and hearing, especially in older adults
Korean Ginseng is best known for its role as an adaptogen, re-energizing the body, and helping to support our ability to deal with stress. Ginseng is also thought to assist with cognitive functioning through stimulating the release of a neurotransmitter associated with learning and memory
Sage leaf and its brain function benefits have been a recent focus area in nutrition research. Sage is thought to improve cognitive performance, including memory and concentration
Rhodiola is thought to be especially useful for times of stress when clear thinking is needed. Often recommended for focus and clarity, it contributes to good blood circulation, which is associated with brain performance, and optimal mental and cognitive activity
Rosemary leaf is another recent focus ingredient for research into brain health benefits, and is believed to contribute to normal cognitive function
Brahmi (bacopa monnieri) is believed to be beneficial due to its antioxidant and anti-inflammatory properties, as well as aiding circulation. It is also thought to stimulate nerve cells within the brain that are linked to memory and learning, as well as preserving cognitive function during the ageing process
Contains Choline, B Vitamins, Zinc, Natural Ginkgo, Ginseng, Sage, Rosemary & Bacopa.


Urban Essentials Cognitive Focus Complex combines a range of complementary ingredients into a single, synergistic dose in optimum quantities. They are easy to use, just two capsules a day, with each bottle containing a full month's supply.
Customer Reviews on Trustpilot