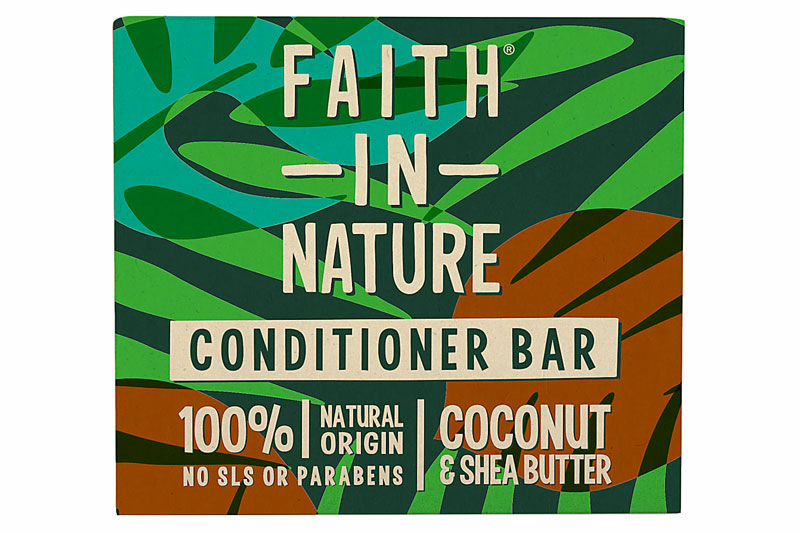 Coconut & Shea Conditioner Bar 85g (Faith in Nature)
Coconut & Shea Solid Conditioner
This Coconut & Shea Conditioner Bar is plastic-free, offering a more sustainable way of reducing waste in your hair care regime. Faith in Nature conditioner bars are handmade and vegan, perfect for anyone wanting to be as kind to the planet as they are to their hair. And because it's a solid bar, it's ideal for travelling. This solid conditioner bar harnesses the natural benefits of coconut oil and shea butter for hair to lock in moisture, leaving hair soft and hydrated naturally.
Plastic-free conditioner bar.
Ideal for dry hair.
Parabens and sulphate-free.
Natural conditioner bar made with 100% natural origin.
Vegan Society Approved and cruelty-free hair care.
100% recycled & recyclable packaging.
Directions for use:
After shampooing, run the Coconut & Shea Conditioner Bar along hair from root to tip. Gently massage it into wet hair and leave on for 1-3 minutes. Wash and rinse thoroughly with water until hair is clean. In case of contact with eyes, rinse with clean water immediately. If irritation occurs, stop use. Keep out of reach of children.
For best results and to reduce plastic in your haircare regime, pair with Coconut & Shea Shampoo Bar. To get the most out of your Faith in Nature conditioner bar, let it dry between uses and do not leave on a wet surface.
Established in 1974, Faith In Nature believe in harnessing the power of nature without harming it in the process. Their solid conditioner bars offer a more sustainable, plastic-free conditioner alternative for those looking to reduce waste and look after the environment. All their shampoo bars, conditioner bars and soaps are packaged in cardboard wrappers that are compostable and recyclable, making them as close to zero waste as possible. All ingredients are 100% natural in origin, meaning you aren't rinsing nasty chemicals down the plughole when washing your hair.
This is a natural, handcrafted product and contains a high amount of oils to condition and nourish your hair, due to this you can expect to see some oil transfer from the bar to the inside of the carton. We recommend storing your bar in a cool, dry place when not in use.
Cocos nucifera (Coconut) Oil*, Distearoylethyl Dimonium Chloride Cetearyl Alcohol*, Polyglyceryl-3 Dicitrate/Stearate, Coco Glucoside, Glyceryl Oleate, Coco Caprylate, Prunus Amygdalus, Dulcis Oil*, Parfum (Fragrance)*, Benzyl Alcohol*
*Plant derived
Customer Reviews on Trustpilot