True cinnamon quills are sticks of
inner cinnamon bark
. These are not the same as the incorrectly named "cinnamon bark" sticks which are actually called
Cassia bark
(a stronger, more savoury member of the same family).
Cinnamon quills are smoother in appearance and are not hollow. They are easy to crumble and have a more subtle sweet flavour. This type of cinnamon is better for sweet cakes, desserts chocolate & custard.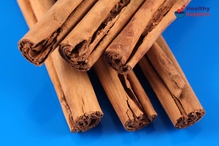 True cinnamon sticks These are the proper cinnamon sticks, or "true cinnamon". Suitable for all purposes, including baking, desserts, mulled wine and bedtime drinks. They have a sweet, delicate flavour.

Approximately 6 cinnamon sticks per pack.
Customer Reviews on Trustpilot
Product Recommendations
---