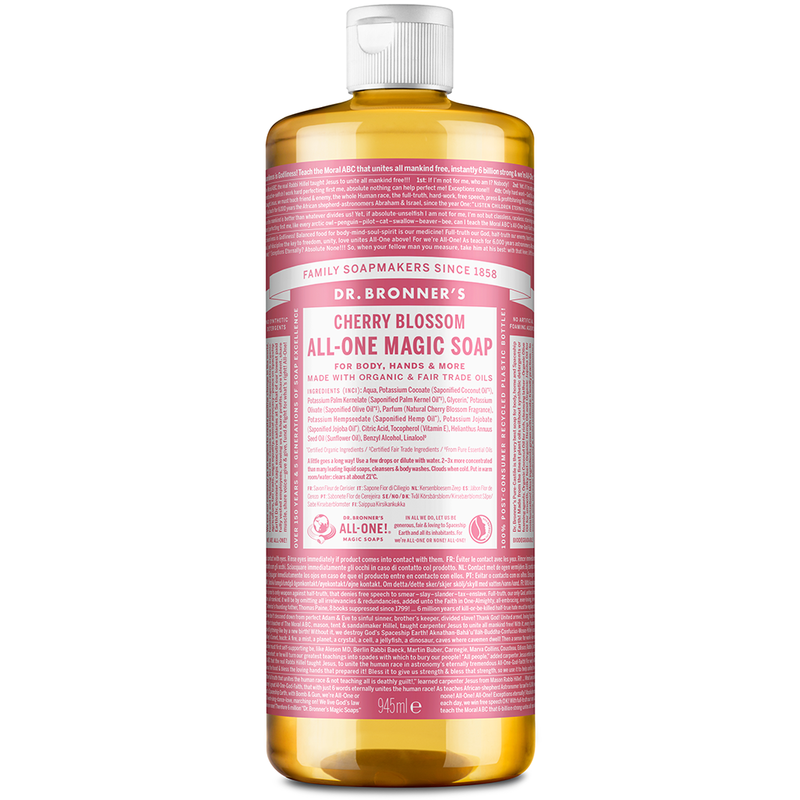 All-One Magic Cherry Blossom Soap 945ml (Dr Bronner's)
Cherry Blossom All-One Magic Soap
Face, Body, Hair - Food, Dishes, Mopping, Pets - The Best For Human, Home and Earth! Subtle scents of cherry and cherry blossoms - the smell of spring. Our Cherry Blossom Pure-Castile Liquid Soap is concentrated, biodegradable, versatile and effective.
Organic and certified Fair Trade ingredients
Made with organic and certified fair trade ingredients, packaged in a 100% post-consumer recycled bottle. All-One!
Please note, you may receive old branding/packaging from us as the new packaging is slowly being introduced by Dr Bronner's. This is an aesthetic change only, and the ingredients are the same.
Directions
Dr. Bronner's 18-in-1 Pure-Castile Soaps are good for just about any cleaning task. Face, body, hair & food, dishes, laundry, mopping, pets & clean your house and body with no synthetic preservatives, detergents or foaming agents & none! Dilute! Dilute! OK!!
Aqua, Potassium Cocoate (Saponified Coconut Oil* **), Potassium Palm Kernelate (Saponified Palm Kernel Oil* **), Potassium Olivate (Saponified Olive Oil* **), Glycerin*, Parfum (Natural Cherry Blossom Fragrance), Potassium Hempseedate (Saponified Hemp Oil*), Potassium Jojobate (Saponified Jojoba Oil*), Citric Acid, Tocopherol (Vitamin E), Helianthus Annuus Seed Oil (Sunflower Oil).
*Certified Organic Ingredients ** Certified Fair Trade Ingredients

Organic • Vegetarian, Vegan • Fairtrade.
Customer Reviews on Trustpilot