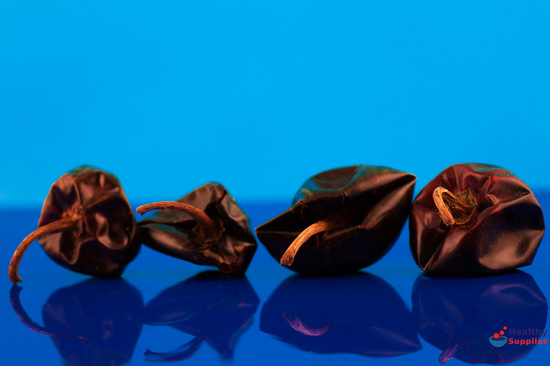 Cascabel chillies are medium-sized and gently spicy.
Cascabel Chillies, Whole 25g (Hampshire Foods)
Flavoursome Mexican Cascabel Chillies
Lovely tangy, peppery flavour.
Very mild.
Simply chop and stir into meals.
Cascabel chillies are a light Mexican chilli, used to flavour dishes rather than to make them hotter. The name "Cascabel" means "rattle" and comes from the way that the seeds rattle inside the chilli when it is dried.
These Cascabel chillies have around the same heat as a pepper, and are suitable as a way of flavouring meals without making them too spicy. They taste very much like a pepper, but with a more intense flavour and a more tangy taste.
Directions
Cascabel chillies are used in moderately spicy Mexican foods. Remove the stems first, then chop or tear the chillies and simply add to the food. There is no need to reconstitute Cascabel chillies, as they absorb moisture from the food around them.
Ingredients:
Cascabel chillies, dried. Produce of Mexico.
For more information on our ingredients policy please see here
Vegetarian, Vegan.
Customer Reviews on Trustpilot
Product Recommendations