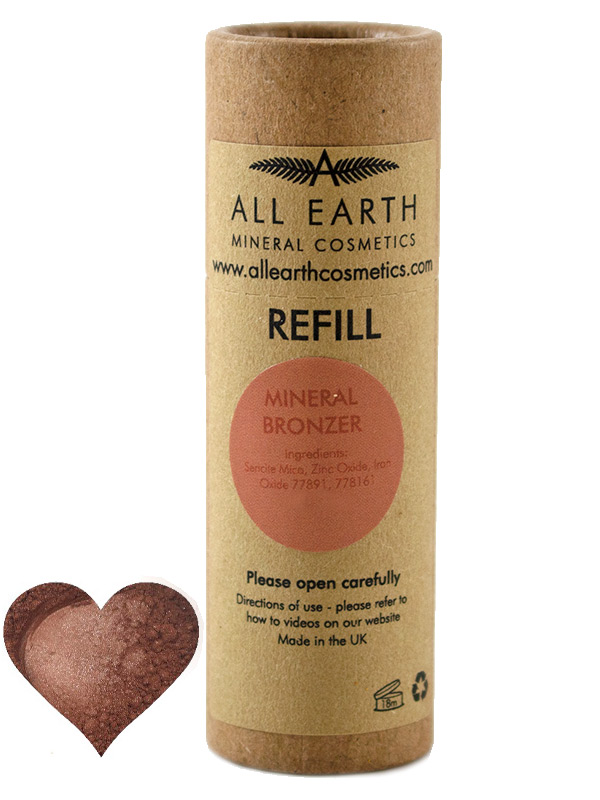 Mineral Bronzer, Refill 4g (All Earth Mineral Cosmetics)
Email me when this product is back in stock
Zero Waste Mineral Bronzer Refill
Formerly Angel Face Mineral Cosmetics. Please note, there is a transition period when you might receive either Angel Face Mineral Cosmetics or All Earth Mineral Cosmetics product. This is just the change of packaging, ingredients and formula remain unchanged.
Beautifully toned eco-friendly bronzer in a 100% recyclable paper tube.
Adds a lovely shimmer, warmth and contour to your face.
The tone can be adapted by how much you use.
Formulated to have the right undertones to suit any skin shades.
Mix in with foundation or concealer to darken the shades.
Can also be used as an eye shadow or mixed with a lip balm/gloss to create a lip colour.
Packed in zero waste, eco-friendly packaging.
Vegan-friendly and cruelty-free.
Natural, biodegradable and paraben-free.
Sericite Mica, Zinc Oxide, Iron Oxide 77891, 778161.
Customer Reviews on Trustpilot