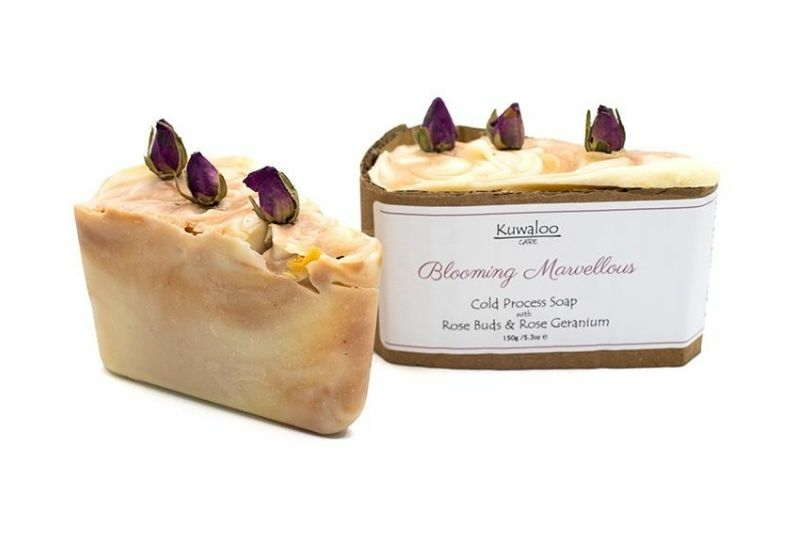 Blooming Marvellous Soap Bar 150g (Kuwaloo Care)
Email me when this product is back in stock
Handmade Cold Process Soap with Rosebuds & Rose Geranium
This blooming marvellous cake slice soap is made with the finest base oils and essential oils.
It is beautifully decorated with swirls of pink clay and finished with dried rosebuds.
It has been created using the cold process method and is 100% natural.
Kuwaloo soap bars are designed for all skin types - this one is especially good for dry skin types.
It is made with skin nourishing oils such as Olive Oil, Rice Bran Oil, Castor Oil and Coconut Oil. These oils help to soothe the skin during and after washing and help to create a rich lather. This soap is subtly scented with Rose Geranium essential oils. It gives a wonderful floral smell to your skin.
This soap has been coloured using pink Australian clay. It gives the soap beautiful pink swirls for mild exfoliation and to help draw out skin impurities.
It has been delicately decorated with real dried rosebuds. This soap is full of thoroughly moisturising oils so they will not dry out your skin like commercial beauty bars. Also, it can keep your skin clean and supple.
How to Use
This soap is suitable for the body. Simply wet the soap and create a lather with your hands. This soap can also be used with a wash mit or cloth.
Warning
Avoid product contacting with eyes. If the product gets in the eyes, rinse with cold water and seek medical advice immediately.
Sodium Ricate (Soaponified Rice Bran oil), Sodium Olivate (Saponified Olive Oil), Aqua (Water), Sodium Cocoate (Saponified Coconut Oil), Sodium Castorate (Soaponified Casor Oil), Rosa Damascena (Rose Buds), Pink Kaolin Pelargonium Graveolens (Rose Geranium), *Ciral, *Geraniol, *Linalool, *Citronellol, *Limonene. (*naturally occurring in essential oils)
Customer Reviews on Trustpilot